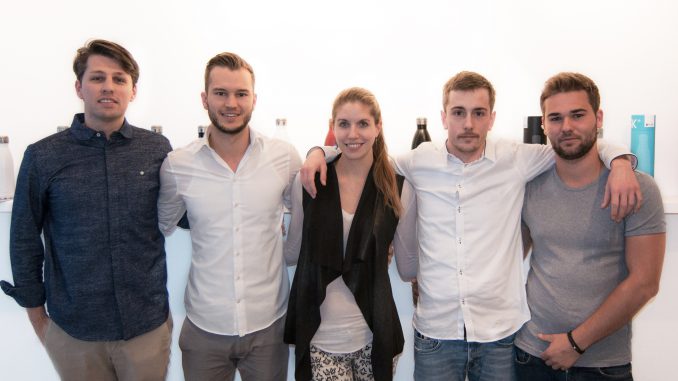 MBS Alumnus Patrick Bohrer aims to revolutionize the thermos.
When Patrick Bohrer had finished his studies, he did what Munich Business School (MBS) lecturers consistently entrust their students to do: He founded his own business. Just a couple of years later, Patrick has already become an enthusiastic three-time founder as well as an experienced entrepreneur.
His newest baby: FLSK – an innovative thermos that is 100 percent leak- and carbonation-proof, taste-neutral, sustainably produced and designed in a classy style. Plus, what is most important, it keeps cold drinks cold for 24 hours while keeping hot ones hot for 18 hours. MBS got the opportunity to talk to Patrick about his entrepreneurial life.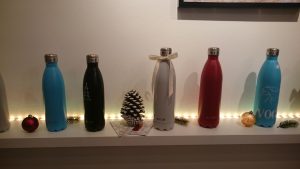 Patrick, you did your Master thesis in the field of Entrepreneurship and Innovation. When did the idea evolve to become an innovative entrepreneur and business founder?
The first class in Entrepreneurship and Innovation, back in my Bachelor studies in the U.S., was the source and origin of my passion towards becoming an entrepreneur. My family background in business (a third generation production business in the Allgäu region of Germany) obviously gave me the knowledge and support that I needed to pursue this risky lifestyle.
What were your next career steps after graduating at MBS?
Directly after MBS, I moved to New York to start my first business: A music event series focusing on German and European electronic music. Back then, I told myself that I wanted to start a business in the area that I loved most – music. New York City was obviously a huge challenge – it is an extremely expensive city to live and work out of and has uncountable bureaucratic hardships being a foreigner. However, a fellow friend that I had met in my Master studies at MBS joined my lead in moving to NYC and helped me immensely with the day-to-day operations.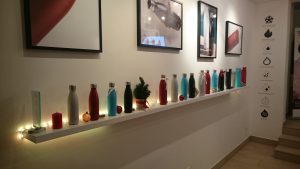 Why did you, of all things, pick New York? How did you get in touch with the local start-up scene there?
Due to my four-year Bachelor studies outside of Boston, I had strong ties to the United States – both from a language as well as a social angle. Most of my friends moved to New York City after university. I thought to myself that this would be the best place to start a business relatively freely and learn a lot in a very short time. I definitely was not wrong with this assumption. However, in retrospect, I would suggest any entrepreneur to start up somewhere else in the beginning!
Could you tell us about the two start-ups you founded in NYC? How did they develop? Are you still in command of these ventures?
My first start-up in New York, the event series with the name of Berlin Calling, led to my direct partaking in the second venture. By proving that our business concept in hosting electronic music events was feasible and successful, we were invited to join a group of industry specialists and music fanatics to launch the nightclub Verboten in Williamsburg, Brooklyn.
Not only the German name, but the entire concept revolving around authentic non-mainstream house and underground music was highly successful and led to the club being voted as one of the best nightclubs in the U.S. I have, however, since my departure, left all operational control in both ventures and am merely an equity holder – leaving the daily decisions up to the local management.
What led you back to Munich?
My girlfriend, my family, my home. It is a great thing to be successful in a foreign country, but a whole different thing to be able to share success with those that are closest to you. This, in my case, was not really possible in NYC. Ever since moving back to Munich, I have been able to be a much more balanced person, being grounded by my family and supported by those that are close to me.
Could you characterize the start-up scene in Munich? How does it differ from the one in NYC?
Munich is amazing. The possibilities are endless and the restrictions are relatively controllable. It is always important to minimize costs in the beginning and start as a lean and efficient business. NYC is too expensive and too corporate for a supportive start-up structure. This is why the creative people and start-ups all moved out of the city, to Brooklyn or New Jersey.
Munich has everything and everything is relatively affordable. Especially the large university presence in Munich is a great accelerator for start-ups. I have been making much use of the Munich Maker Lab – a "fitness center" for engineers, where, for a monthly fee, you can use all kinds of machines such as 3D printers, CNC mills and laser-engraving machines. Munich also has the geographical advantage to be located in a triangle – being able to efficiently supply to the entire DACH (Germany, Austria, Switzerland) region.
Could you tell us about how the idea of FLSK came up and how it evolved into what it is now?
On one of the hottest summer days of this year, one of my friends who at that time was working in South Africa, came along with a stainless steel bottle that apparently could hold all his drinks cold for 24 hours. He told me he took it everywhere – for long car rides to always have cold water, for his white wine when he would go to the beach, cold juices for tennis games or golf tournaments.
I was mind-blown. From this moment on, we merely took the existing idea and partnered, in the venture phase, with a South African company that was already selling these bottles since 2003. We redid everything: improved the design, improved the production process, focused on e-commerce vs. wholesale and created a few marketing campaigns that would establish a modern, fashionable and at the same time functional brand image.
How did you find your business partners for FLSK?
We all found each other. We were friends and business associates in a side-venture already and ultimately all knew our individual competencies that are very different from each other. All of us have been part of successful ventures prior to FLSK and have gained uncountable experience in these undertakings. Even though we are a young team (all of us are under 30), we are extremely knowledgeable and experienced in this industry. As the team is said to be the most important part of any venture, I can say that I have the best people around me for what we are doing currently.
What are your specific tasks in the company?
I think that in the launch phase of FLSK we worked together very closely and did not have exact structures as we were trying to pull on one rope together. Once established, we all found our roles relatively quickly. Mine is to drive business development. I am currently very actively pursuing international expansion opportunities, mostly in South America, as well as corporate synergies on a local level. You will witness many interesting partnerships coming up in the next six months, be sure of that!
What are the main challenges you have been facing during the founding process of FLSK?
The biggest challenge that we have faced at FLSK so far is that we have a product that exists in a market area mostly known as very un-sexy and only functional – the thermos. It takes much time and marketing to change the way people interact with a thermos. However, the general acceptance of our product, especially after trying it out, has been extremely high and very encouraging.
Charity and sustainability play a big role at FLSK. How come?
We, at FLSK, believe that giving back to the community is an essential part of conducting a good business. Even though there have been increasing local issues around us, with the refugee crisis and terrorism, we still believe that our western world is very fortunate, and thus, we focused on helping those in dire need – mostly in areas directly affected by developmental problems, natural disasters or war.
Since we were well aware that starting a business takes quite some time and effort, we felt it was necessary to team up with someone who already had the infrastructure present to do good: Waves for Water is an organization that uses a highly developed water filtration system to supply communities in need with fresh water. The water filter is built in a way that it can filtrate more than four million liters of impure water and turn it potable. It is easy to carry and use, every person can take it with them on a trip and distribute it while travelling.
Every single member of our company was certain that we wanted to help and foster this charitable aspect of our company. However, we did not want to accept the usual charity model where we merely donate money to a big organization that would end up spending it for marketing campaigns rather than the actual cause. Waves for Water changed the entire game by encouraging people to help themselves by bringing water filters with them to areas where potable water is lacking.
I myself was fortunate enough to take part in a project in Bali, Indonesia, where we brought filters to a local hospital where fresh water is an essential component to the health of its people. In the future and when time permits, we are planning to get involved with further projects of Waves for Water.
How did you get in touch with Waves for Water?
The executive director of Waves for Water is an acquaintance of mine who I met when visiting Miami for an investors' conference in 2012. What really stuck in my head was his saying "do what you love and help along the way". This mentality should be adopted by many more people. Being raised in a beautiful city such as Munich where we hardly face any hardships, it is very important to acknowledge the privilege that we have had as children and give back to society whenever we can.
Could you tell us something about what you plan for the future of the company?
The plan is simple: We want to change the way people interact with and use drinking bottles. Rather than using throw-away plastic bottles or less appealing, less functional existing thermoses, we wish that customers raise their personal awareness and standards. It is not impossible anymore to have a well-designed bottle that can keep your drink at the perfect temperature at all times. Our FLSK changes the way you transport drinks, no matter what season or temperature it is.
Which aspects of your Master studies were particularly helpful when founding your start-ups?
My classes in Entrepreneurship and Innovation with Prof. Dr. Bergfeld were very important and taught me the foundations of starting a successful business. Events such as the Munich Venture Summit further strengthened the bonds that were constantly built between lecturers and students and other fellow students.
With the founding experiences and expertise you have gained over the last years, is there something, in hindsight, that you should have done differently?
I would never write a business plan again before starting a business. I have learnt that you have to trust your gut and have the courage to sustain times of drought to follow your dream. With FLSK, as an example, all our assumptions in regards to the market have been proven untrue just a week after launching the business. One has to be flexible and patient. It is very easy to get nervous in the beginning of a venture. In regards to my studies, I would have just liked to have started earlier with a business in Germany and gaining more local market insights.
Talking about founding a business, how important was it for you to have a start-up network?
Priceless. Knowing good people is everything, and no money can buy or replace this network. Trust, personal relations and support is everything you can ask for when launching a business. It is about keeping initial costs as low as possible but never accepting less quality in any field. The best kind of network is the one that can scale your business fast without diluting your own equity.
What would be your main advice for future founders?
Look into the future! See how the market is changing and read in between the lines. Understand media and its influence on business. Thinking that platforms such as Snapchat, Instagram or Facebook do not have a direct effect on your business is careless, and will hurt you in the long run. Disrupt or be disrupted 😉
Anything else you would like to add?
I would be very happy to get any feedback in regards to FLSK, our website or anything we currently do. Any partnership or company branding requests, please send to patrick@flsk.de.
By the way: If you are still looking for a stylish as well as beneficial Christmas gift, do not hesitate to visit the FLSK store located in Adalbertstraße 6 in Munich or the FLSK online shop! There is also a winter season special offer up for grabs!