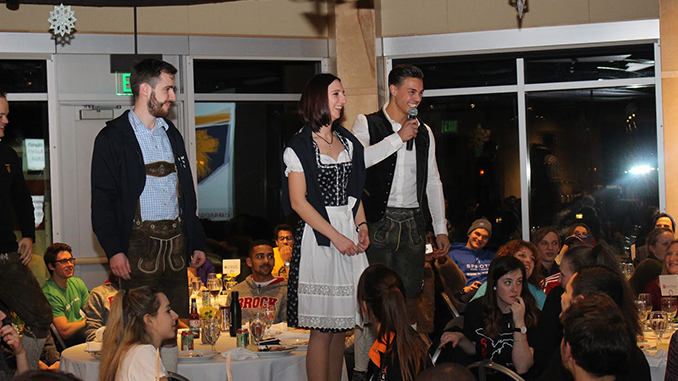 As reported here, a team of MBS Master International Business students participated in the Family Enterprise Case Competition (FECC 2017), hosted by Grossman School of Business, a University of Vermont department.
Contending in the competition for the first time, the MBS team achieved the 7th place in the graduate league after being knocked out by the later winners of the tourney, the team of ESADE Business School. Alexander F. Bergfeld, MBA General Management alumnus and Coach of the MBS team, was awarded with the "Team Coach Award", while MBS team member Fabio Straub succeeded in the Collaboration Challenge (a form of consolation bracket).
In addition, the MBS students raised some awareness on day one of the event by showing up in traditional Bavarian lederhosen and dirndl.
MBS lecturer Prof. Dr. Marc-Michael H. Bergfeld, who presided over the jury as the Lead Judge in the final round of the competition, summarized: "We can be very proud of our students. They proved great team spirit and managed to establish Munich Business School as a breeding ground for family business experts."
Maximilian Keil, MBS team member alongside Viktoria Eberl and Fabio Straub, summed up the event as follows: "It was a very challenging competition as the starting field comprised some great teams. It turned out to be very demanding to solve a sophisticated family business case within a 4-hour time frame, create an appealing power point and eventually present our findings in a creative as well as persuasive manner – especially because the jury consisted of experienced family business leaders and experts from academia. Overall, it was a very special learning experience and a lot of fun, as well. I hope anotehr team of fellow MBS students will be back for the competition next year."
Viktoria Eberl added: "It was very fascinating to see how students from different countries approached the challenge: i.e. how they worked and what aspects they were focusing on during the competition. I for myself learned a lot, especially regarding presentation techniques. Last but not least, it was a great experience to meet fellow students from all over the world and exchange views with them. I am really glad having been a part of this great event."
For additional impressions of the FECC 2017, please find the official write-up, photos and much more here.
Photos in this article are courtesy of University of Vermont/Grossman School of Business.