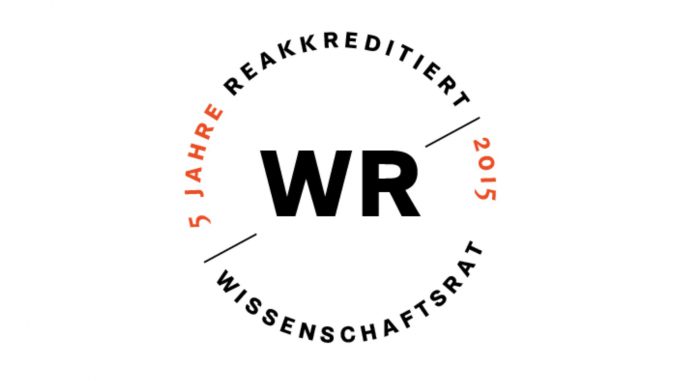 MBS receives re-accreditation by the German Council of Science and Humanities
For another five years, Munich Business School (MBS) was awarded the institutional accreditation by the German Council of Science and Humanities, as recently announced by the Council. With this repeated accreditation, the Council of Science and Humanities confirms the high quality of the study programs offered by MBS that meet the generally accepted scientific standards.
"We are very happy that the Council of Science and Humanities has again awarded its quality seal to our university and the study programs taught at our institution," comments Prof. Dr. Stefan Baldi, dean of MBS. "The accreditation reassures us in our daily work and is an encouragement for us to continuously advance and improve ourselves as an institution of education and research."
MBS convinces by international and practice-oriented programs and individual support
In May 2015, a delegation appointed by the Council of Science and Humanities visited Munich Business School to verify the quality and performance level of the university in teaching and research. The subsequent evaluation report confirmed that MBS complies with the "scientific standards of a university". In addition, the Council attests a "positive and robust development" since the first accreditation.
In its official notification, the Council declares:
"Munich Business School (MBS), founded in 1991 and state accredited in 1999 as a university of applied sciences, convinces by a broad and practice-oriented scope of internationally oriented Bachelor and Master programs in business administration. In addition to academic training, MBS places great importance on enhancing personal development and imparting general interdisciplinary knowledge. MBS offers its students comprehensive and individual support by the university's lecturers. Students additionally benefit from learning in small study groups."
Accreditation – a quality feature
In 2010, MBS – as the very first private university in Bavaria – was accredited as an institution by the German Council of Science and Humanities for the first time. Re-accreditation follows after a few years to re-evaluate certified proficiency. In the process, the Council's committee examines if the university is still in a position to provide teaching and research according to approved scientific standards. Moreover, equipment and staff of the university, its finances and other index criteria are put to scrutiny.
Beyond the Council's accreditation, Munich Business School is accredited by the Bavarian Government. The accreditation was awarded by the Bavarian State Ministry for Science, Research and the Arts as early as in 1999. In 2010, the indefinite governmental accreditation followed. Here as well, MBS was the first private university in Bavaria ever that succeeded in obtaining this confirmed endorsement.
On the international level, MBS is accredited by FIBAA (Foundation for International Business Administration Accreditation). FIBAA is one of the six most important quality assurance and accreditation agencies and its quality seal confirms the professional relevance and quality of the study programs. All study programs offered at Munich Business School have a FIBAA accreditation.