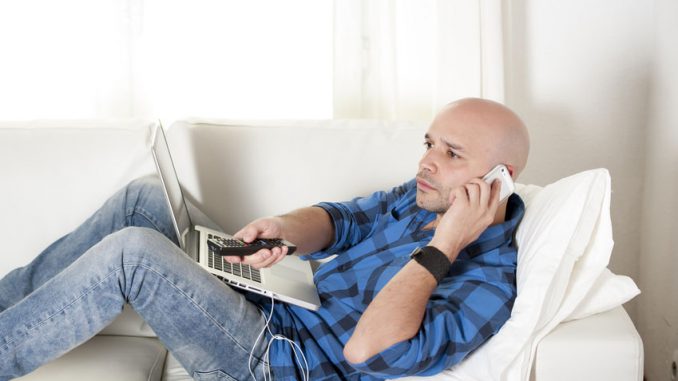 I am always fascinated to see which interesting perspectives our students take with their projects. As an example, I would like to present you the final thesis of Bachelor graduate, Katharina Stankovic, which deals with the subject of second-screen campaigns in marketing. Katharina was supported by her supervisor Dr. Tanja Boga, who is responsible for innovation and tool development at Mediaplus, the biggest independent media agency in Germany.
I would like to share with you Katharina's most important results. I have additionally interviewed her on the chances and challenges of a final thesis, which was created in cooperation with a company.
One screen is not enough: Multi-screening as the secret ingredient of marketing
More and more people possess and use smartphones and tablets. For advertisers, this raises the question if and how they can optimize their publicity in this usage context.
In order to enable agencies like Mediaplus to develop an innovative media strategy for their customers, they first of all have to identify the right tools. According to Dr. Boga, it is important to not only consider such tools the customer is already aware of, but to proactively take the initiative and develop new ones.
Katharina has engaged herself with the benefits of second-screen campaigns in the field of online media and TV formats. Campaigns as they are developed by Dr. Boga focus on the current media usage behavior of consumers: Studies have shown that television viewers use several end devices at the same time. Second-screen campaigns take advantage of this fact by providing television viewers contents on one or several additional screens. Dr. Tanja Boga comments: "Fundamental to this is that the use will take place parallel as well as linked by contents. The viewer for example sees a commercial on TV and is stimulated to synchronously order the corresponding product per smartphone or tablet on the Internet."
"Although, with a share below ten percent, this market is still quite small, we are already noticing an increasing demand," Dr. Boga continues to explain. As nearly 70 per cent of the Germans surf the Internet parallel to television consumption from time to time, for companies as well as for agencies there is an enormous expansion potential for their campaigns. And: Katharina stresses in her thesis that the target group is especially interesting for the advertising industry. After all, those showing the willingness to actively obtain information on a product, generally also show a high disposition to buy.
According to Boga, it is therefore important for a media agency to always be up-to-date with their skills, take a proactive approach digitally and to develop a vision for trends and innovations. This is the only way in which they, together with their customers can react on changes. Current trends like for example "digital out-of-home" (e.g. the smartphone use of commuters on the go) prove that the development in this area will also continue in the future.
Fluent transition from graduation to career start
With the results of her Bachelor thesis, Katharina left a lasting impression at her current employer Mediaplus. So now nothing stands in her way for further development opportunities at Mediaplus.
Katharina had already established contacts to the renowned media agency prior to her Bachelor thesis. She was employed as a working student at Mediaplus for six months. In this way she also became aware that the agency was working intensively on a big project with this innovative issue and got the opportunity to deal with this in her final thesis.
Katharina appreciated that she was able to already acquire practical work experience in the numerous study projects at Munich Business School. However, she strongly recommends all students to additionally have a try as a working student in their areas of interest.
This requires a high level of commitment – after all, you also have to work in the short semester breaks. However, Katharina was thus able to ideally prepare for her career start. Furthermore, she recommends realizing the final thesis together with a company, alongside the supervision by the university professors. This may entail a combination of a full-time employment and additional university stress, but: You deal with real challenges from practice, you gain new perspectives and you can exchange with experts. This leads not infrequently to chances for the professional future.