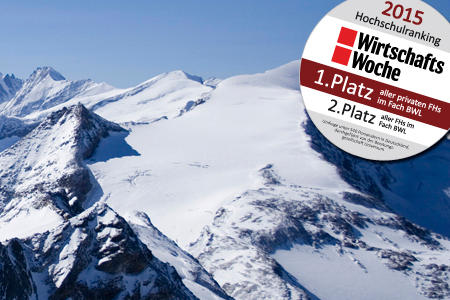 Munich, July 22, 2015 – Munich Business School (MBS) has achieved excellent results in the current WirtschaftsWoche University Ranking 2015. In the category "Best universities of applied sciences in business administration", MBS was ranked second overall – further increasing its ranking of the previous years. This makes MBS the top-ranked private university of applied sciences in the area of business administration.
On behalf of WirtschaftsWoche, the consultancy firm Universum had conducted interviews with 540 HR managers from all over Germany. Those decision makers were asked to rate the best universities from a list of academic institutions whose graduates, in their view, fulfilled the corporations' requirements the most. In the survey, precisely 10 per cent voted in favor of MBS. This is the second best result of all German universities of applied sciences in the field of business administration. Among private universities of applied sciences, MBS was even ranked first, relegating other renowned educational institutions to lower positions.
Focusing on practical orientation
According to WirtschaftsWoche, the HR executives placed high priority on the practical relevance of the academic training in their ranking – a factor gaining increasing importance among companies. In addition, the university ranking revealed that graduates of universities and other academic institutions in metropolitan areas are highly sought-after on the job market, with Munich and Berlin being the most favored locations.
"We are very happy about this excellent result. We are, as a principle, committed to prepare our graduates as well as possible to their professional future," declares Prof. Dr. Stefan Baldi, dean of Munich Business School. "The fact that the HR managers of German companies have such a good opinion of our graduates, and also implicitly about our training concept, confirms our approach."
Number one among private universities of applied sciences
MBS has been able to maintain its position amongst the top ten of the University Ranking of WirtschaftsWoche since 2009. In past years, MBS had been ranked sixth back-to-back-to-back before making the leap to second place this year. Among private universities of applied sciences, MBS has been able to continuously defend its top position for several years.