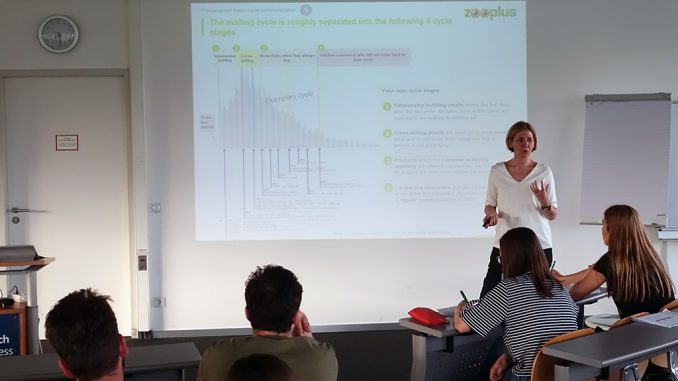 Past Monday and at the invitation of MBS Professor Dr. Alexander Hahn, Dr. Silke Esser, Head of CRM & Sales Analytics at zooplus AG, visited Munich Business School to share her expert insights on "Recent trends and developments in customer relationship management and sales analytics" with Bachelor, Master, and MBA students.
Established in 1999, zooplus is a Munich-based company and Europe's leading online retailer for pet supplies, shipping its goods to 28 countries.
A dedicated CRM expert, Dr. Silke Esser started her presentation by introducing the company of zooplus and its strategic positioning in the (online) pet supplies industry. She then shifted the focus to how the company's Customer Relationship Management is organized, hinting to key drivers such as convenience (e.g., reliable delivery of goods), completeness (e.g., focus on pets, large selection of brands), performance (e.g., customer centricity, reach), and content (e.g., additional, pet-related information and content such as expert articles).
Dr. Esser also gave some palpable examples of measures such as personalization of the customer experience and loyalty programs that have enabled the company to accomplish a customer retention rate of over 90 percent.
After the presentation, the guest lecture was concluded with an extensive Q&A session.
We would like to thanks Dr. Silke Esser for visiting Munich Business School and sharing her knowledge with our students!