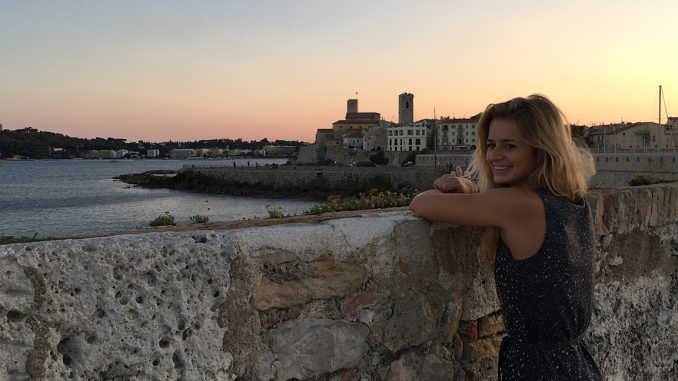 Alix Rekersbrink, spent two semesters abroad at SKEMA Business School in Sophia Antipolis/ Antibes, France. On the SBC Blog from Abroad, she shares her impressions from the Côte d'Azur.
Why did you choose this partner University?
What sold me on SKEMA Business School was that I could spend two semesters abroad, study French and earn an additional Master's degree in just a few extra months. I was also intrigued that the degree has the combination of marketing and business development. Here on campus in Antibes, I had a concentration in innovation, meaning I could take many courses in this area which was very interesting.
How is the student life abroad different from your day-to-day life (both in university and outside) in Germany/ Munich?
The atmosphere in Antibes was, despite its proximity to the Côte d'Azur, pretty relaxed. The city is rather small, but Nice and Cannes are not too far way. Many of my French classmates used to live in groups of six or eight in rented houses, so there were a lot of house parties on the weekends. The classes are pretty challenging, there are many group projects and the exams happen throughout the semester.
What was your best/ worst/ funniest experience abroad?
My French Rugby girls took me to a so-called Wake-Apero. We went with about 40 people to a Wakeboard site where some spent the afternoon wakeboarding and others spent the afternoon with Petanque (a French version of bowling). At night, we cooked together and finished the day with one or two glasses of wine. This was one of the days for me when I felt like I had arrived and like I was integrating.
How were the sports options at your partner university?
There are a lot of sports options at SKEMA. I went to the coordinator in the first week and signed up for Crossfit and Rugby. I never would have chosen Rugby on my own and even after four weeks I still felt a little lost as the only German. But the team was awesome! I have gotten to know many people through the intramural sports. They took me everywhere and made things easy!
Which tips and recommendations do you have for future students at the partner university?
Definitely try to meet French students from the beginning, speak a little French and go to the intramural sport. This made many things easier for me and since I was here for two semesters, I was glad to have found a group of friends who studied at SKEMA full-time. This way I didn't have to start all over again at the end of the semester when the Erasmus students left. This is also a good way to get to know the real French college life.
Generally, you are all set with English in Antibes, except for maybe pharmacies and bakeries.
What conclusions do you draw from your semester abroad and what are you taking with you for the future?
I really liked it and I am happy that I chose SKEMA. Four weeks of intensive French during the summer were enough to make the first connections there. I am definitely also considering applying for a job in France at some point.
[wp_geo_map]