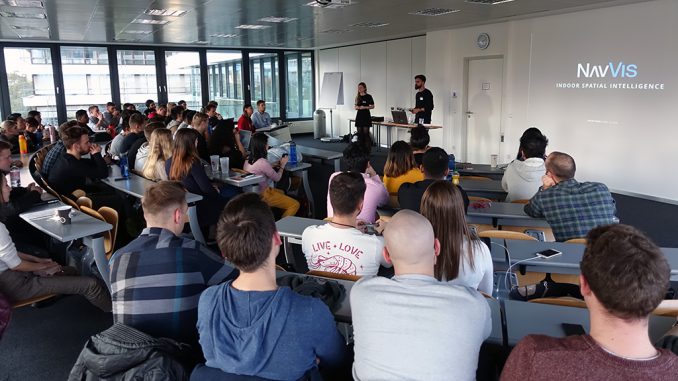 Yesterday, another Recruiting @ MBS event took place at Munich Business School, hosted by the MBS Career Center. This time, it was all about local, Munich-based startups, five of which lined up to showcase themselves, and offer internship, working student, and entry-level job opportunities to the Bachelor, Master, and MBA students.
First to enter the stage were Simon Huber, Solution Partner Manager, and Aleksandra Mernaia, Recruiter & HR Manager and a 2016 MBS Master International Business alumna, of NavVis.
A spin-off of the Technical University of Munich (TUM), NavVis aims to bridge the gap between outdoor and indoor digital maps, pushing the frontiers of digital mapping by providing a "street view for indoors".
The second startup to present itself was tacterion, represented by their Head of Operations, Kilian Moser. A spin-off of the German Aerospace Center (DLR), tacterion has been developing sensor technology for robotics in order to "give machines the sense of touch".
Enter Sascha Koberstaedt, CEO of EVUM Motors. The company, another TUM spin-off, aims to provide people in emerging countires with affordable and sustainable electric mobility.
Based on a research project, EVUM Motors has developed a prototype of a multi-purpose vehicle that is meant to contribute to tackling urgent issues in the areas of education, healthcare and economic development in developing countries.
Next was INNOSPOT, represented by Co-Founder and Managing Director, Daniel Buschmann. INNOSPOT identifies and matches startups for corporates, accelerators, and corporate venture capital investors by using an AI-based search and crawling technology.
Last, but not least, it was on Jonas Rieke, VP Customer Services, and Melina Garber, Recruiter, to present Personio, a startup that offers a holistic HR and applicant management software, which makes day-to-day operations of HR teams more efficient as well as transparent.
After the very informative presentations by the startups, the evening continued with a get-together at the MBS Lounge, at which the students had the opportunity to engage in personal talks with the company representatives, and to gather further information on their job offers.
We would like to thank NavVis, tacterion, EVUM Motors, INNOSPOT, and Personio for visiting MBS and providing our students with the opportunity to get some insights into the Munich startup ecosystem.