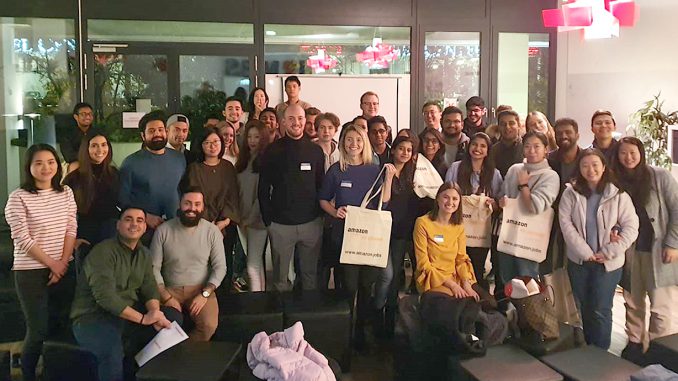 The latest »Recruiting @ MBS« career event featured Amazon and in particular their Graduate Programs. The evening started with an introduction of the company and its services and product lines, followed by showing a presentation of the different possibilities to start a career at Amazon. The representatives explained that new college graduates or interns have multiple opportunities to innovate and solve real-world, complex technical and business problems. Amazon tries to hire the brightest minds from universities around the globe. Besides they have various career opportunities for undergraduates and advanced degree students with diverse academic backgrounds. The recruiter of Amazon explained the application process and showed the students what Amazon particulary values in job interviews. She also gave useful tips on the application documents.
Subsequently, the event continued with a get-together, where the students got the opportunity to get in touch with the Amazonians in order to expand their professional networks. Thanks to Amazon for visiting Munich Business School and making this great event possible! More information about the Graduate Program can be found here.
Once again, we also want to thank Danilo Martinella and his team from Martinella Catering for the very delicious food!!