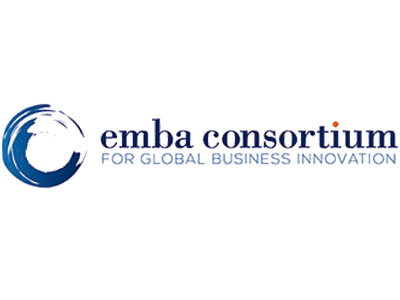 Since the start of the year, Munich Business School has been a member of the EMBA Consortium. The EMBA Consortium for Global Business Innovation is the result of a collaboration between a number of business schools around the world. It aims to enrich the educational experience of MBA students by offering a global portfolio of geographically focused programs.
---
In September each year, the EMBA Consortium's member universities organize a simultaneous week-long program across all their sites and invite their MBA students to take part. As part of this initiative, each university coordinates with the Consortium to select a specific, future-focused business topic that is appropriate to the institution's profile and location. MBA students have the opportunity in the spring to choose a program that meets their personal interests and career goals. They subsequently benefit from a direct and in-depth insight into another field of business, including establishing new contacts with key players from business and industry as well as other MBA students around the world.
Membership in EMBA consortium enables expansion of international partnership network
By becoming a member of the EMBA Consortium, Munich Business School has expanded its network of international partner universities and raised both its profile as an institution and the profile of its MBA program. Munich Business School's participation in the Consortium complements the MBA International Week offer: MBA students can choose whether to spend the International Week as usual with SDA Bocconi School of Management in Milan or with another international university within the EMBA Consortium.
In contrast to International Week with Bocconi University, MBA students at MBS who spend the week at a Consortium member university will not travel abroad together as a group. Instead, each student will be free to choose a program that appeals to their own interests and immerse themselves in a new (university) culture and an international study group. When selecting students and putting together study groups, the Consortium will strive to ensure that groups have the most heterogeneous and diverse composition possible. While MBA students from MBS are studying elsewhere, Munich Business School will welcome a group of international MBA students to Munich. Where capacity allows, this offer from the EMBA Consortium is also made available to MBA graduates of the member universities. This gives them the opportunity to continuously expand their international networks and stay up to date with the most innovative and significant topics for the future of business.
In addition to Munich Business School, the EMBA Consortium comprises ten further universities across five continents, including Cranfield School of Management in the UK, the University of Stellenbosch in South Africa, and Keio Business School in Japan. With Florida International University (FIU), ESAN Business School in Lima and Kozminski University in Warsaw, three long-standing partners of MBS are also represented in the Consortium.
Further information on the EMBA Consortium and its member universities is available on the Consortium's website. If you have any queries regarding implementation and organization, please contact our MBA Program Coordinator Elena Lucchi.
---


You are interested in economics and want to acquire in-depth business know-how?
Then the international business degrees at Munich Business School (MBS) are just right for you! At MBS you won't cram dry theory from old textbooks, but learn in a outcome-oriented way and gain valuable practical experience. Convince yourself:

Bachelor's in International Business
Master's in International Business
Master's in International Business I Finance
Master's in Innovation and Entrepreneurship
Master's in International Marketing and Brand Management
Master's in Sports Business and Communication
MBA General Management
Doctor of Business Administration