"The best innovators go beyond looking – they create new partnership and alliances; they prepare to rethink their whole mission."
On Monday, November 2, 2018, Gregory Glanzmann, Head of Digitalization and Change at BMW Motorrad, visited the Connected Vehicle Lab at MBS and gave a lecture on "Digital Business Models for the Single-Track Mobility of the Future".
Gregory Glanzmann, born in Japan and raised in Hong Kong and Switzerland, has always been interested in grasping new contexts, and further developing them. Organizational Change in particular is a field that has accompanied him since his Master studies in Strategy and International Management at University of St. Gallen. In his role as Head of Digitalization and Change at BMW Motorrad, he benefits from his vast experience in various industries, and his passion for technology.
Following the keynote lecture, Gregory and MBS Professor Dr. Hans H. Jung moderated an ideation session with more than 60 international students, aimed at identifying new digital options.
The motorcycle industry includes all motorized single-track vehicles, from pedelecs to smaller scooters to large engine motorcycles. Measured in units, this market will be larger than that for automobiles in 2018, with up to 135 million units compared to approx. 100 million (Faust, H.; Glanzmann, G. 2018, p. 241).
BMW Motorrad has already introduced an autonomous driving motorbike this year, and offers connectivity in selected serial motorcycle models, and in particular accessories and equipment. The aim of digital connectivity is to increase the safety of motorcycling, and to promote the social character that motorcycling embodies. The digital transformation also offers an inexhaustible spectrum of starting points for innovative business models from the user's point of view. These are specific to motorcycles – such as access to single-track mobility services as well as to real and virtual realms of experience (see figure 1).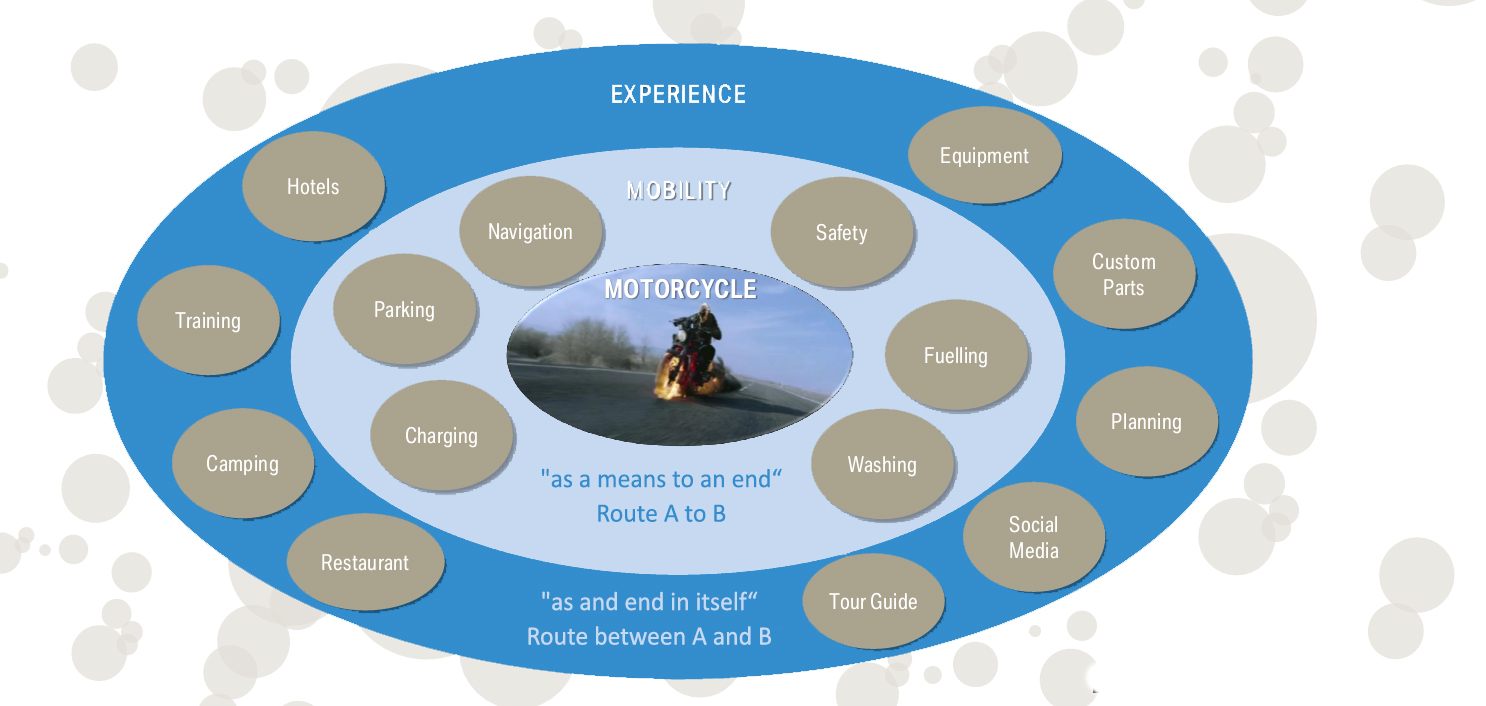 Taking into account the diversity of existing services, mobility services in the context of single-track mobility can be divided into the areas of sharing (services that make vehicles accessible to a user), hailing (services that provide an available means of transport including a driver) and convenience services (services that border on, or enable mobility).
The motorbike with its mobility is often understood as enlarging one's own radius, which also constitutes a starting point for innovative services and added value in the real or virtual, digital world of the consumer. For example, customers are supported when they enthusiastically report on their motorcycle experiences, and share them with others through word of mouth and social media activities. For example, BMW Motorrad is represented on digital platforms, for instance via a cooperation with Rever (a motorcycling app), where bikers can track and plan their own routes, make use of routes recommended by others, and share them with fellow motorcyclists. In addition, BMW Motorrad offers Rent A Ride, a digital platform that provides access to BMW motorcycles that can be rented for shorter and longer tours.
The ideation session with the students that followed the lecture, organized in two sprints, covered a broad spectrum of questions: what obstacles (customer pain points) can the students identify with regard to their respective home countries that complicate access to single-track mobility? Which (digital) solutions with regard to product, service, and experience dimensions can be developed in order to create solutions for the customer pain points mentioned above?
MBS Under the Sign of Transformation
Munich Business School has been working intensively on the subject of transformation for some time now: both the Master International Business and Bachelor International Business study programs feature courses in Digital Business, and in International Innovation and Digital Business, respectively. In 2015, Munich Business School launched the MBS Connected Vehicle Lab, a platform for science, research, industry, and services. The lab serves the faculty, students, and experts from corporate practice to exchange information on the latest modes of learning and communication in the area of mobility of the future. At the end of last year, a comprehensive publication titled "Digital vernetzt: Transformation der Wertschöpfung" (approx. "Digitally connected: The Transformation of Value Creation") with contributions by over forty authors from science and practice was created under the auspices of MBS.