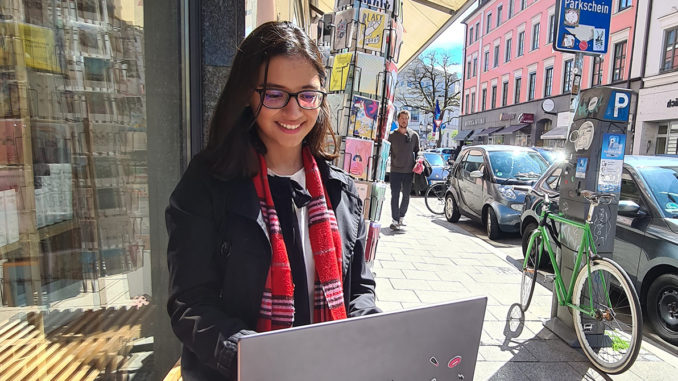 Nadja Donderer, a student in the International Business Bachelor's program at Munich Business School, spent her semester abroad in spring 2021 at International School of Business (ISB) in Dublin – due to the COVID-19 pandemic, however, not on site, but online. In the blog post, she reports on her experiences.
---
Dia duit Munich Business School,
My semester abroad at International School of Business (ISB) in Dublin was "grand" as the Irish say. It was great! Even though my trip to the Emerald Isle was only online, I enjoyed the time very much and learned and laughed a lot. Why did I choose ISB? Simple! I have always been fascinated by Ireland's breathtaking landscapes, like the Cliffs of Moher, mystical stories and hospitable people and I couldn't wait to ask my professors about Leprechauns 😉 .
Since COVID-19 also threw a spanner in the works for me – as it did for so many of us – I opted for an online semester abroad. Moreover, the number of infections in Ireland had risen to a level that it would have been negligent to travel there. Therefore, I was glad that the ISB offered an online program at short notice, which allowed me to continue my studies without delays and from a safe distance.
The Sales & Management Program at ISB Dublin
I attended the Sales & Management program and thus discovered dormant talents in me! Convincing and negotiating during a sales meeting suits me and also gives me a lot of pleasure! The professors at ISB Dublin are competent and passionate about their subjects, which is definitely noticeable in their teaching. One thing in common with the studies at MBS is that the lessons are very practice-oriented and include the lecturers' own experiences.
The fixed program had many courses to offer, e.g. Management & Organization, which was partly new to me. However, over time I rediscovered many elements of the topics that I already knew, so it was easy to dive into the subject matter. Furthermore, I was able to apply the background knowledge I had gained in previous semesters at MBS to the new subjects and analyze them in more detail. One positive aspect was that we went through the topics very carefully and scrutinized them closely. Another very interesting subject was Social & Economic Aspects of Ireland, where we learned a lot about the culture and economy of Ireland. For example, I was very surprised that not even half of the population of Ireland speaks Irish, but English or Polish.
One difference to the online classes at MBS was that we used Zoom instead of Microsoft Teams. At the beginning, it was still unfamiliar, but that quickly subsided and the handling of other communication tools can certainly be useful for the practical world of work later on, I think. Because the ISB is a lot smaller and therefore very familiar, you have good opportunities to build relationships with each other.
A highlight of my semester abroad was definitely the Sales & Negotiating Project. Basics, such as the 6 Principles of Sales & Management or how marketing influences sales, which we had learned in the theoretical part of Sales, we could apply perfectly here. The project took up the entire four months – an intensive time in which we worked a lot with our fellow students, which also resulted in some friendships.
Online campus life during my semester abroad at ISB Dublin
Of course, there is a difference to an actual semester abroad, where you are on site and can experience the culture firsthand, but I was also able to make wonderful experiences online. For example, the ISB called for Quiz Nights, where students were invited to prepare questions and topics in advance in self-selected teams. This made the whole thing more fun and creative, so you definitely had your Irish "craic" (fun).
What surprised me a lot was the fact that our class consisted mostly of exchange students from France and Germany, because due to the pandemic not so many could take advantage of the offered program on site and preferred to postpone. The benefit here was that you had the feeling of doing an additional semester abroad in France 😉. It was super fun to exchange ideas and at the same time strengthen your intercultural competencies.
The good thing about an online semester abroad is that you are much more flexible and can manage your time better. We also learned this in our sales course. Especially in sales, you usually have to spend a lot of time, for example, for the trip to the customers or the preparation of a joint lunch, etc.
All in all, I can highly recommend an (online) semester abroad at the ISB in Dublin, because you get to know great people, learn a lot of new things and thus broaden your horizons – and all that in a pleasant family environment. As soon as the pandemic has calmed down again, I'm looking forward to exploring Ireland live together with my sister, new online friends and a lot of knowledge in my luggage.
Until then, slán!
The author is responsible for the content and form of the article.
---


You are interested in business, want to pursue an international career and get to know the world?
The Bachelor's program in International Business at Munich Business School is the perfect preparation for this challenge! The program offers you practice-oriented teaching, an integrated semester abroad, as well as different concentrations that can be freely selected according to your interests. See for yourself: Bachelor International Business