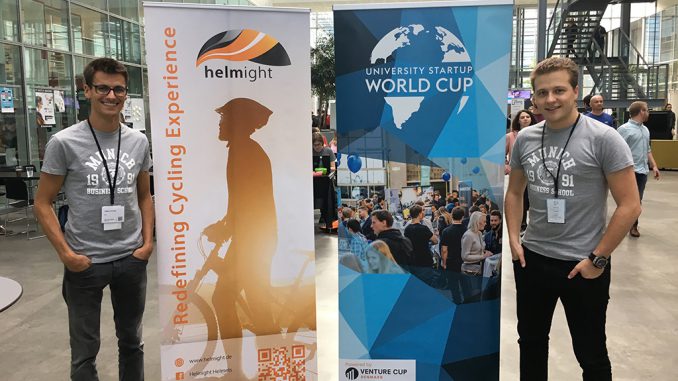 As reported, MBS students Fabian Konrad and Alexander Zettl had traveled to Copenhagen to represent Munich Business School at the University Startup World Cup 2017. In the capital of Denmark, they presented their start-up Helmight while competing against 70+ international teams, met with fellow student entrepreneurs, participated in associate events, and gathered valuable feedback and experiences .
Helmight, presented at the start-up pitching competition MBS LAUNCHIT for the first time, is an innovative solar-powered headgear for cyclists featuring a lighting system that is attached to the helmet in an ergonomically intelligent way, braking lights that indicate the driving path, an acoustic alert system to inform nearby people in case of an accident, an SOS System that automatically drops an emergency call in case of an accident and many more features.
Here, Fabian and Alexander share some experiences of their trip to Copenhagen:
Monday: After our arrival in Copenhagen, we spent the first day at Copenhagen Business School and got to know the organizers of the event and the other participants. This was a great opportunity to make some contacts. We also received the task to prepare and submit our pitch in the specified format for the upcoming day.
Tuesday: We took part in a presentation on future developments in the context of globalization, held by a KPMG expert. In the afternoon, we worked together with the other participants and dealt with various questions regarding the topic of globalization.
Wednesday: This was a very exciting day as we presented our prototype at Technical University of Denmark (DTU) – a great opportunity to gather a lot of feedback from potential interested parties. In addition, we had some fruitful discussions on how to further improve our project in general.
Thursday: The day of the semifinals at IT University Copenhagen. We were the first team to present our idea in a 4-minute pitch. Afterwards, we answered questions of the 5 jurors in a 10-minute Q&A session. In the afternoon, we set out to explore the city by Segway and not only experienced the beautiful city of Copenhagen from a new perspective, but also discovered a potential new business area.
Friday: This was the day of the finals, taking place at the historic stock exchange building located in the center of Copenhagen, providing a great atmosphere!
All in all, it was a very nice and exciting week in Copenhagen with a lot of new and interesting impressions, which will certainly be a decisive advantage for us in the further development of Helmight.
If you are interested in what's happening next with Helmight, follow them on Facebook & Instagram.