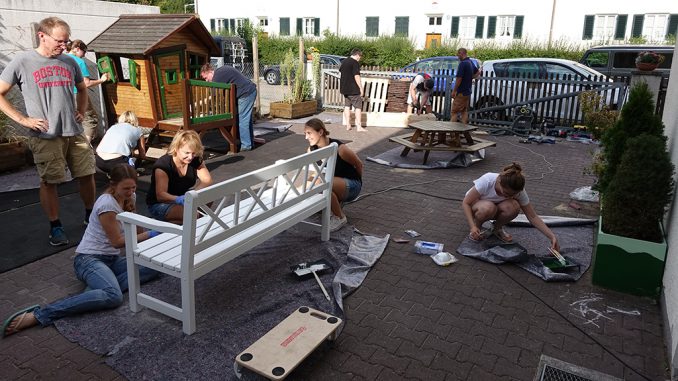 Social responsibility is one of Munich Business School's most important values, and a fundamental part of the study programs at MBS: the Bachelor students, for example, contribute by organizing social service projects, others join the student association MBS Helps, which has organized the raffle of the Munich Aids Concert for five consecutive years, amongst other social activities.
It is, of course, a point of honor for the lecturers and staff members of MBS to do their part in making the world a better place, as well. So yesterday, on a beautiful summer day, more than 10 MBS employees made their way to the day nursery Die Klötzchen e. V., not far from MBS in Munich-Laim.
The mission: to pimp the outdoor area that serves as the children's playground! The task was to repaint a playhouse, to polish and paint tables and benches, to put flower boxes in a better-looking condition, and to replace floor slabs with new ones. So tools at hand, and go!
A few hours later, all the work was done – and the amateur builders, satisfied with their craftsmanship, went on their way home. Now, we are curiously looking forward to the kids' feedback on their revamped playground…