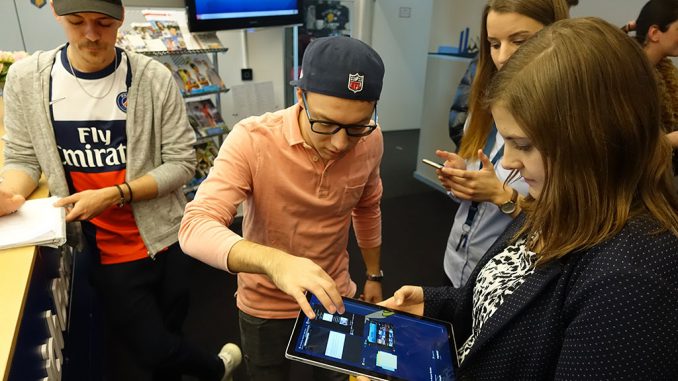 As part of their Innovation and Digital Business module, 15 Bachelor International Business students engaged in a 4-day Design Sprint workshop organized by design sprint coach Alexander Daamen, co-founder and Design Sprint Facilitator of NoPilots, and MBS professors Dr. David Wagner and Dr. Alexander Hahn.
To start the workshop, the students were presented with a Design Challenge: how can Augmented Reality (AR) technology enrich the annual MBS Open House event?
Through a structured process, the students were able to design and prototype user-centric AR experiences, and test them in a live environment. Exciting findings were generated for both future Open House visitors as well as MBS employees.
During the feedback session that concluded the workshop, the students mentioned that they particularly liked the practical and theory-based application in a new technology field. They feel encouraged to simply try out new technologies such as AR as a prototype, and to test further use cases. The Bachelor students also liked the 4-day process very much as they learned to test ideas quickly before over-engineering them.
According to GV (formerly known as Google Ventures), co-inventor of the method, the Design Sprint "(…) is a five-day process for answering critical business questions through design, prototyping, and testing ideas with customers (…)."