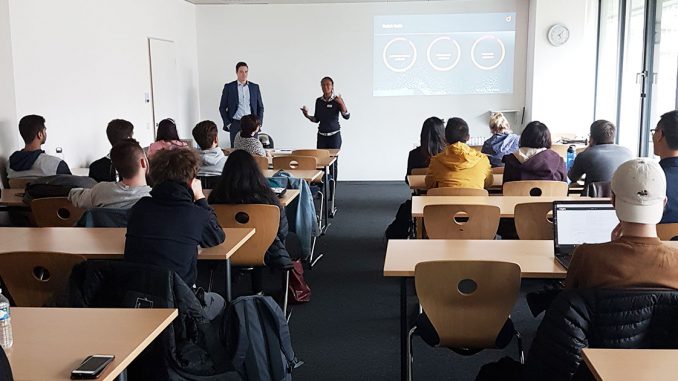 Yesterday, another Recruiting @ MBS event took place at Munich Business School, organized by the Career Center. Themed "Digital Transformation", the event featured five companies: die Techniker, a substitute health insurance fund and thus carrier of the statutory health insurance, Dennemeyer, a leading global full-service provider for intellectual property management, Haselhorst Associates, a management consultancy which accompany numerous medium-sized companies in organizational and strategic changes, AssetMetrix, Europe's leading next generation asset servicer, which offers modular outsourcing solutions for private capital investors and teknowlogy, which is aleading independent European research and consulting firm in the fields of digital transformation, software, and IT services.
The companies showcased themselves and made interesting workshops together with the Bachelor, Master, and MBA students and shared valuable information on internships, working student positions, and entry-level jobs.
After the companies' insightful presentations, the Recruiting @ MBS event continued with a get-together at the MBS Lounge, where the company representatives provided the students with additional information.
We would like to thank die Techniker, Haselhorst Associates, Dennemeyer, AssetMetrix and teknowlogy for taking part in our recruiting event, it's been a pleasure to host you!