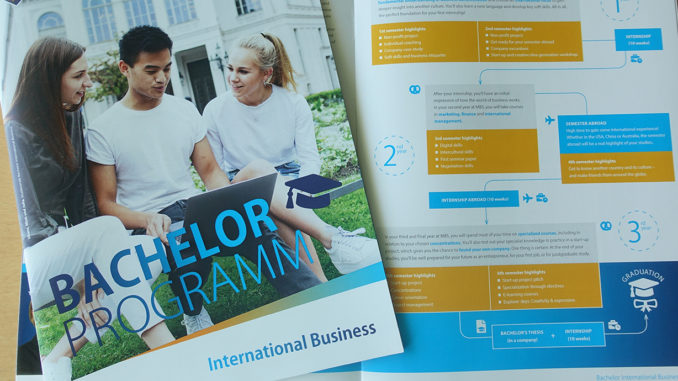 The Bachelor International Business at Munich Business School (MBS) will start in the fall semester 2020 with an optimized curriculum. In the interview, the academic directors Prof. Dr. Patricia Kraft (1st-3rd semester) and Prof. Dr. Arnd Albrecht (4th-7th semester) reveal how the "new" Bachelor's program was developed and what makes the program so special.
---
MBS Marketing: Why a new Bachelor curriculum right now?
Prof. Dr. Patricia Kraft: Kraft: Our Bachelor Program in International Business has existed in its current form for eight years with three adaptations in the last six years. During this time, however, the world has not stood still, but has changed. Digitalization and other processes of change pose new challenges for professionals and managers and require new skills from young professionals. In order to give our students a good start to their careers, we as a university have revised our Bachelor curriculum and adapted it to prepare them in the best possible way for the so-called Future Work Skills.
Prof. Dr. Arnd Albrecht: Against the backdrop of the Corona crisis, we have seen how important it is to conduct business flexibly, digitally and virtually. A fulfilment of the so-called employability beyond the mere requirements of accreditation authorities and seals; this is the ability of graduates of the Bachelor's program in International Business at MBS to be able to act independently and competently in a volatile environment in industry, in large or small organizations, in family businesses or in the company they founded themselves.
MBS Marketing: And what exactly is new? What contents have been added to or adapted in the curriculum?
Prof. Dr. Patricia Kraft: Our Bachelor House of Competencies is still based on our three MBS values, provides comprehensive business management and practice-oriented expertise in its corpus, and also develops the social, methodological and digital skills of our students. In particular, we are expanding our students' digitalization skills with new modules on Big Data Analysis, Business Intelligence, but also on Digital Ethics and Security. We are also further sharpening our MBS value of responsibility: We are adhering to the existing social project and are pushing social commitment even more strongly by including volunteer work as an individual in the curriculum from fall 2020 (Civic Engagement). In addition, we want to sharpen the focus on sustainable business topics and are introducing a course on Sustainable Business & Ethics in the sixth semester. We have also supplemented our Soft Skills & Personal Development module, which covers semesters one to three, with new content on Business Etiquette, Critical Thinking, Resilience and Conflict Management.
Prof. Dr. Arnd Albrecht: Following the stay abroad in the fourth semester, where they gain international and intercultural experience in practice, the students return to MBS. In the penultimate semester at MBS, they can expect to apply all the knowledge they have learned so far, they get to know the refinement of international business administration and delve even deeper into the topic. The in-depth modules were completely redesigned: Students now develop their understanding of business administration not from the "silo thinking" of functions, but from "process thinking". Three central processes are brought closer: Innovation takes place along the product life cycle from the idea to the further development of a former blockbuster; supply chain management is demonstrated from procurement to production to logistics and delivery to the customer; customer relationship management considers how marketing and sales reach the customer or consumer based on the identification of needs. At the same time, students acquire fundamental management skills such as Finance/Accounting and HRM/Leadership to practice these processes. From these Business Processes and Management Competencies, students choose a focus topic for their last semester at MBS, which they then study more intensively. In addition, students specialize in three additional electives that cover international business topics and industries. One elective is studied completely as a blended learning module. The students also expand their digital competence through the new module Agile Project Management, where methods such as Scrum or Kanban are in focus.
Prof. Dr. Patricia Kraft: Last but not least, we want to convey all these exciting contents to our students in an equally exciting and vivid way. To this end, we rely on innovative teaching concepts beyond the classic lecture hall teaching: creative workshops, excursions and so-called Explorer Days, where students work on business topics with approaches from art or culture, for example, are fixed components of our optimized Bachelor curriculum.
MBS Marketing: Sounds like an exciting and varied program! How did you proceed with the conceptual design of the new curriculum?
Prof. Dr. Patricia Kraft: The new curriculum is the result of a multi-stage process in which different perspectives have been incorporated and taken into account. On the one hand, we carried out competitive analyses and examined research with regard to relevant, current and future-oriented topics and, on the other hand, we conducted surveys and discussions with various stakeholders such as MBS colleagues, the MBS Advisory Board, students and alumni. We collected the input and finally tried to reconcile the different points of view and perspectives and to pour them into a joint program.
MBS Marketing: What added value do you see in the new curriculum for the students?
Prof. Dr. Arnd Albrecht: Through the close cooperation with industry, our own research and the analysis of the international job market, we see the clear benefit that the students with the acquired skills – hard skills, soft skills and digital skills, but also practical doing – have a USP, a competitive advantage among all graduates. Even long-standing managers find it difficult to think processually – our students get this "for free".
Prof. Dr. Patricia Kraft: We already see now that our students get great positions on the job market very quickly and without problems. This will certainly be even better with the new content – a great added value especially in uncertain times like these.
MBS Marketing: And who benefits from the new study content? Only those students who begin their Bachelor's program at MBS in the fall semester 2020 or also students already enrolled in higher semesters?
Prof. Dr. Arnd Albrecht: We are deliberately rolling out the new curriculum for the fall semester 2020 in such a way that as many students as possible benefit from it. This means that not only freshmen, but also students in their penultimate and final semesters in the fall semester will benefit from the new program and can look forward to new exciting content and learning methods as well as more creativity and hands-on activities. The accreditation, the positive rankings and the later increasingly up-to-date graduating classes contribute to the ideational value of the brand Munich Business School, which raises the market value of even long-standing graduates.
Have we aroused your interest and would you like to learn more about the Bachelor in International Business at MBS? Then take a look at our website!