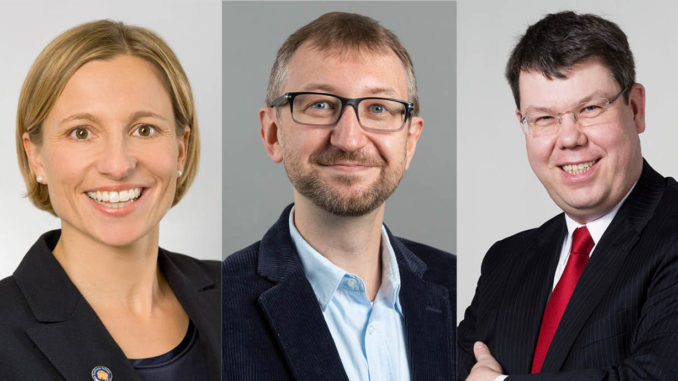 At the semester opening ceremony in early September, Munich Business School once again presented awards to outstanding MBS students, lecturers, staff members and alumni. This year, three accolades were presented to members of the faculty: the MBS Teaching Award, the MBS Research Award and, for the first time, the MBS Explorer Award. The three recipients of these awards were Prof. Dr. Florian Bartholomae, Prof. Dr. Arnd Albrecht and Prof. Dr. Patricia Kraft.
---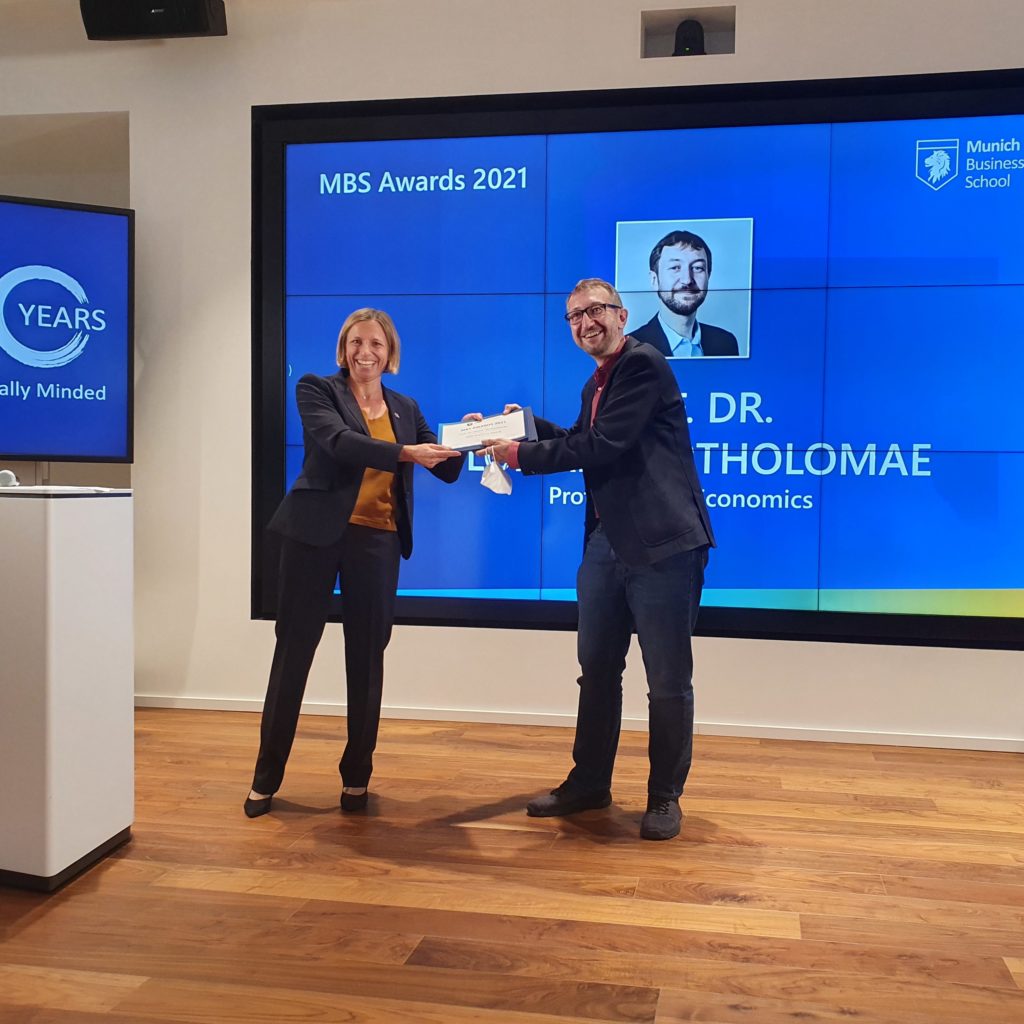 "Once upon a time…" said Prof. Dr. Patricia Kraft, Vice Deacon for Learning and Teaching, as she began her laudatory speech in honor of this year's winner of the MBS Teaching Award. In truth, it was long before the coronavirus pandemic, before we all came to spend hours each day on various networking channels, that Prof. Dr. Florian Bartholomae and a number of other colleagues began to use Facebook groups and other social media tools to review teaching content in an interactive, digital format, diving deeper into subject matter and discussing issues with his students. In the past year, the migration from classroom-based teaching to online and hybrid teaching has enabled award-winning Prof. Dr. Florian Bartholomae to continue pursuing his passion for digital teaching methods. He has always been determined to ensure that teaching in digital settings does not diminish lecturer-student contact, providing adequate support, using creative tools such as Kahoot!, and integrating special student support methods in his teaching. This clear focus on students' learning, and the high degree of interaction with students, were crucial factors given by the MBS teaching and learning committee – comprised of Prof. Dr. Patricia Kraft, Prof. Dr. Ellen Schmid and Prof. Dr. Schmidkonz – in their decision to present the MBS Teaching Award 2021 to Prof. Dr. Florian Bartholomae. "Something students tell us time and again is that Professor Bartholomae's economics classes are certainly not the easiest or the most palatable. And yet, in their feedback, our students say it is thanks to their professor's enthusiasm and dynamic support that they manage to get to grips with the course content and enjoy their lectures. In course evaluations, the courses taught by Florian Bartholomae have consistently received top marks for years – and so I'm delighted to present him with the MBS Teaching Award 2021 for his outstanding teaching!" summarized Prof. Dr. Patricia Kraft.
---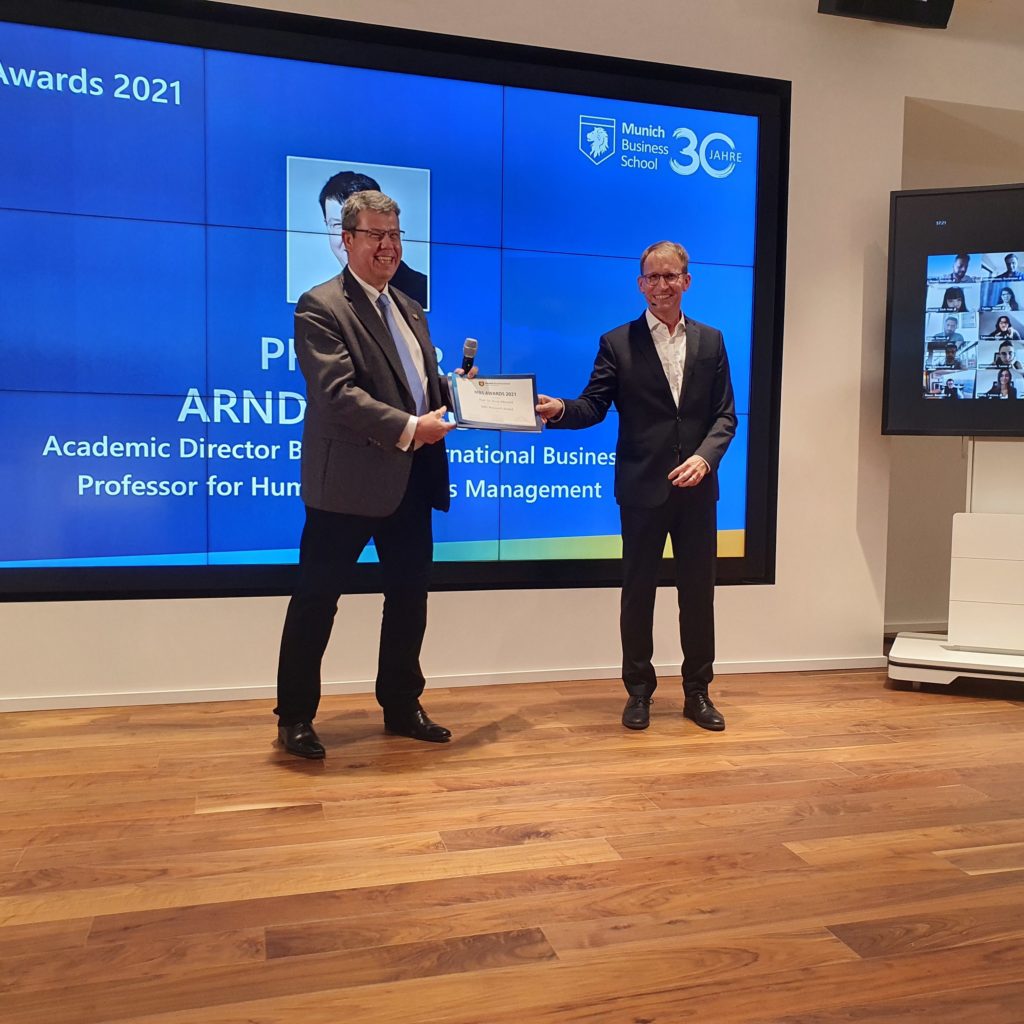 The MBS Research Award recognizes outstanding research performance by MBS professors. In his address, MBS Vice Dean Prof. Dr. Heiko Seif noted that, although a great deal of research has been carried out at MBS over the past year, it was also clear that this year's Research Award could only be presented to one colleague, whose work has truly set him apart: Prof. Dr. Arnd Albrecht. A long-serving professor of Human Resources Management at MBS and academic director of the bachelor's degree in International Business, his achievements include having his research papers on The Future of the Working World and Management published in three peer-reviewed academic journals. In addition, Prof. Dr. Albrecht has published a particularly pertinent textbook together with Prof. Dr. Dr. Andreas Hillert, chief physician and director of Schoen Clinic, on the topics of burn-out, stress and depression. It combines the latest insights from research with various perspectives from mental health practitioners, using case studies to illustrate the complexity and individuality of patients and potential ways to provide successful therapy. He has also continued his research on the topic of leadership and developed a new leadership model at the interface of management, neuroscience and psychology. Prof. Dr. Albrecht's book Zukunftsgerecht führen (Forward-looking leadership) was also recently published in October 2021. With his research into Work 4.0, mental health and leadership, Prof. Dr. Arnd Albrecht is – in the words of Prof. Dr. Heiko Seif – "providing substantial support to Munich Business School's efforts to position itself as a research-focused institution".
---