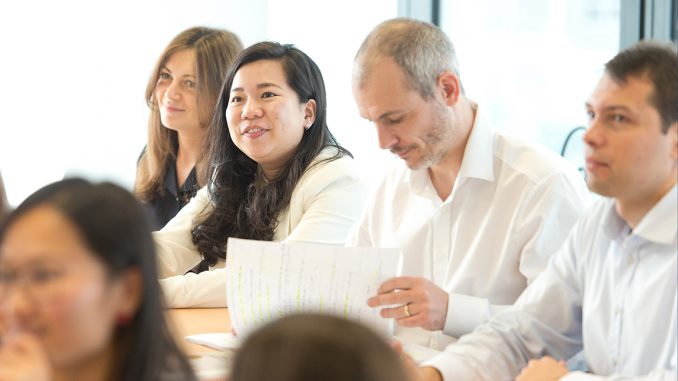 With the Pre-MBA International Management, Munich Business School (MBS) is now offering a compact preparatory program for the MBA International Management. During the five-week program, experienced MBS lecturers impart extensive management knowledge to the participants. In addition, the successful completion of the Pre-MBA International Management is treated as an alternative to the Graduate Management Admission Test (GMAT) and Graduate Record Examination (GRE), respectively – granting access to the MBA International Management full-time study program.
Within the Pre-MBA International Management, the participants acquire important skills and knowledge in academic and managerial writing as well as in analysis and business decisions. In addition, they receive an individual career coaching provided by the MBS Career Center – for them to be perfectly prepared for the re-entry into their post-MBA professional life.
International students who are planning to continue their post-MBA career in Germany get the option to additionally attend an intensive German language course as part of the Pre-MBA International Management. The successful completion (level A1.1) entitles them to participate in advanced language courses during their full-time MBA studies at MBS.
A GMAT/ GRE Alternative
To conclude the five-week preparatory program, first starting on July 24, 2017, the participants take an MBA Admission Test which on successful completion entitles them to directly access the MBA International Management full-time study program – without having to do the typically mandatory GMAT or GRE test. The MBA International Management starts early in September, subsequent to the Pre-MBA.
Sneak Peek: The MBA International Management Study Program at MBS
The 15-month full-time study program MBA International Management perfectly prepares graduates for a management career in an international environment. The program targets international candidates with a non-business degree, but still offers enough depth for business degree holders to further strengthen their competencies in a truly international learning environment and gain additional business knowledge.
For further information, please see here:
If you have any questions on the MBA programs of Munich Business School, please contact our MBA Program Advisor, Juliane Große.