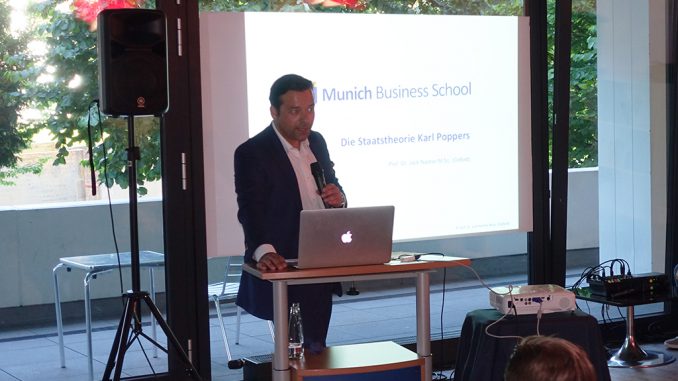 Yesterday evening, the MBS Lounge was the venue for another interesting event as MBS: Professor Dr. Jack Nasher presented his new reference book titled  "Die Staatstheorie Karl Poppers. Eine kritisch-rationale Methode" (approx. "Karl Popper's Theory of the State. A Critical-Rational Method."; published in German), highlighting Sir Karl Popper's Open Society theory. The book has just been published by Mohr Siebeck.
The guests of the evening were welcomed by Prof. Dr. Stefan Baldi, Dean of MBS. He was followed by Stephanie Rechenberg, attorney and member of the honorary committee of  the NGO Human Rights Watch to which Dr. Nasher will spend 100 % of his royalty. Mrs Rechenberg provided the guests with an appealing overview on the worthwile activities of the organization.
Following that, Prof. Dr. Nasher took the stage to present the contents of his new reference book to the audience and eventually start a discussion on the topic.
The evening was concluded with a get-together which the guests enjoyed until late in the evening.