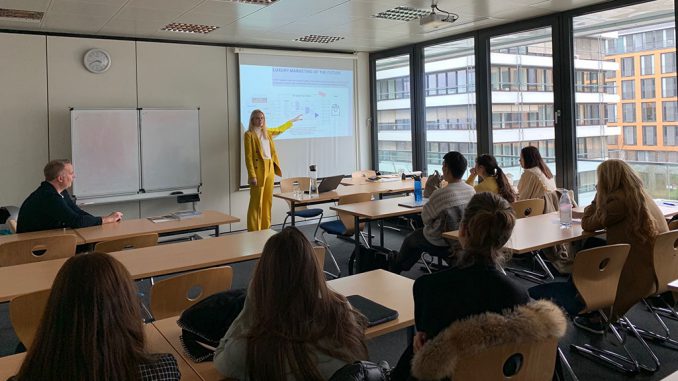 At the invitation of MBS lecturer Julia Riedmeier, two luxury and retail experts of KEYLENS Management Consultants, Associate Partner Daniel Ohr and Senior Consultant Oona Dornacher, visited Munich Business School to give a guest lecture on "Lead Management in the Luxury Industry: How to Increase Sales and Customers Without Diluting the Brand" for the Master students of the Luxury Management concentration.
In their daily business, both Oona and Daniel advise high-end companies in areas such as lead management and customer loyalty programs.
In their guest lecture, they touched on various topics, e. g., what will be the most important tasks for marketing managers in tomorrow's luxury industry, why addressing luxury goods consumers is not just about running print ads, but creating much more complex approaches, and how sales figures can be increased without diluting the brand image. To illustrate their ideas on a practical level, Oona and Daniel also brought some real-life cases.
The guest lecture was concluded with a Q&Q session, which the students used to gather some more insights. Many thanks to Oona and Daniel for visiting Munich Business School, and for sharing their experiences with our Master students!