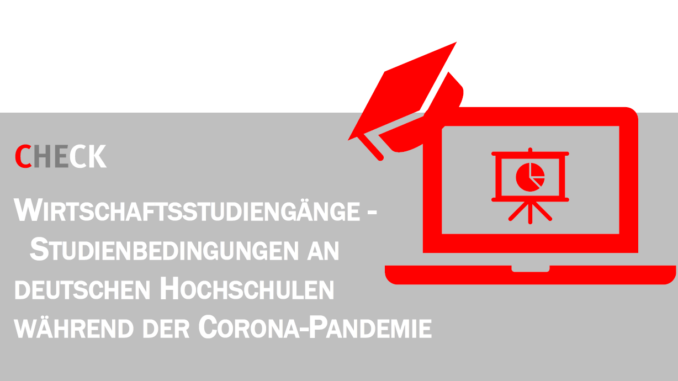 The corona pandemic has posed challenges for universities worldwide and has led to a veritable digitalization push. In order to avoid the risk of infection, universities were forced to shift their course offerings to the digital space. While many universities were not affected by the switch until mid-April for the summer semester 2020, Munich Business School already switched to online teaching in March within a very short time and during the current semester.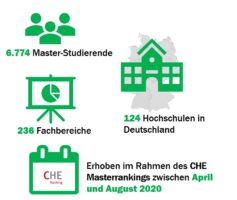 In order to gain a first impression of how universities dealt with the corona pandemic and the process of switching to online teaching, the Center for Higher Education Development (CHE) conducted a special survey among master's students from business studies programs as part of the annual CHE Master Ranking, whose results have now been published. The online survey took place between April 20 and August 31, 2020, and is intended to show how students felt about the digital corona semester and the digital study conditions. A total of 6.774 students from 124 universities and 236 faculties submitted their evaluation.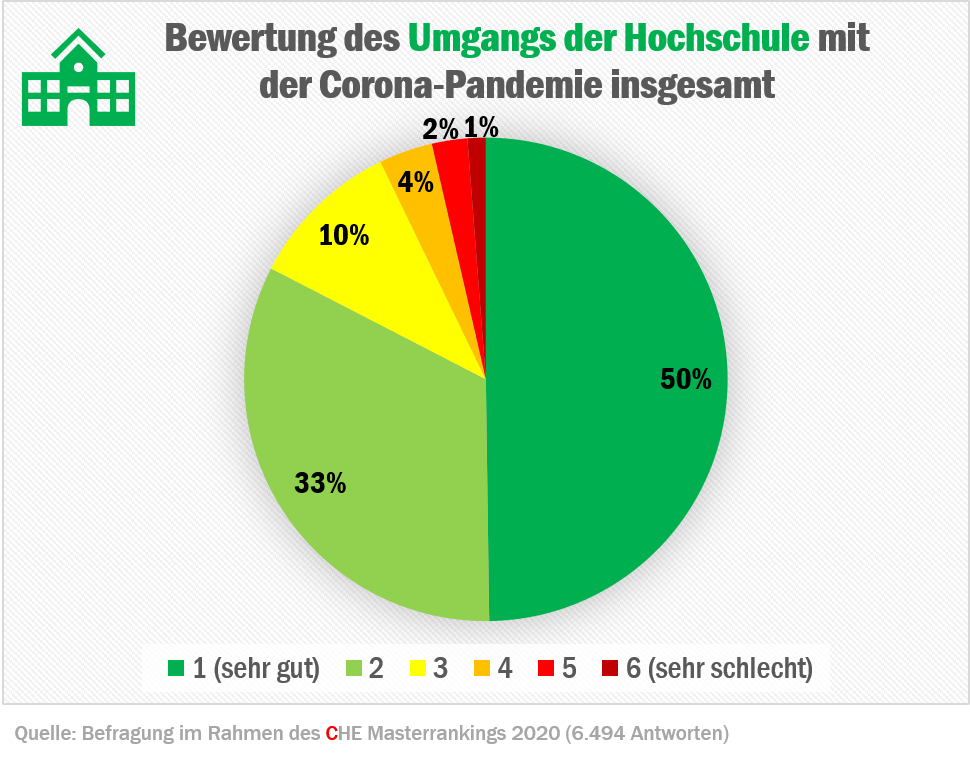 The results of the survey show that all German universities – i.e. those covered by the survey – have coped well with the effects of the corona pandemic. Over 80 percent of the students surveyed rate the general handling of the corona pandemic by the university as good to very good, with private universities standing out particularly positively. The students praise above all the rapid switch to digital teaching and a good crisis management. The results are also predominantly positive in the category "Study organization during the Corona Pandemic", which includes the sub-categories of "information management", "contact and exchange opportunities with lecturers", "the possibility of taking exams", "the ability to continue studies as planned" and "the availability of contact persons". A similar picture emerges for the category "General Conditions for Digital Teaching", whereby the sub-categories "Reliability and Frequency of Digital Feedback from Teachers", "Possibilities for Digital Professional Exchange among Students" and "Teaching Concept of Teachers for Digital Teaching" still show some potential for improvement. For example, some students would like to have a university's own digital platform for joint learning and exchange, and note that the quality and performance of digital teaching often varies greatly from teacher to teacher.
The individual evaluation of the data of Munich Business School confirms and even trumps this positive picture. MBS scores better than the average in all criteria and the proportion of good and very good evaluations is always above 80% in all 12 categories. The university receives bad and very bad evaluations in almost none of the categories and only in very low percentages.
The detailed results of the CHE Master Student Survey on study conditions at German universities during the corona pandemic can be found here. The CHE Master Ranking will be published in December 2020.