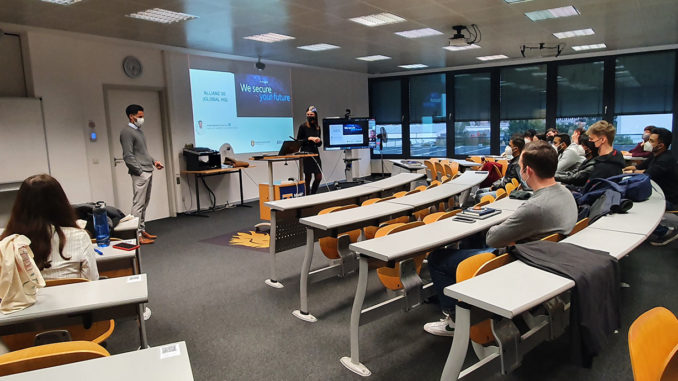 On October 14, 2021, the first Alumni Career Event with attendance at MBS in more than one and a half years took place. Visiting MBS alumnus Nasir Mehrzad Balach introduced the students to the world of Allianz SE and gave them the chance to win an exclusive visit to the Allianz headquarters in Schwabing with a quiz.
---
"You won't believe it, but the last career event with an external guest in presence at MBS actually took place in February 2020," said MBS Career Center Manager Stephanie Stangl, opening the evening. "So, I am all the more pleased to welcome both our guest and students in presence and online today." Afterwards, MBS alumnus Nasir Mehrzad Balach took the floor himself and made it clear that he does not feel like an extern, but as " one of you." After graduating with a Master's degree from Munich Business School in 2020, Nasir initially joined Allianz Technology as a Recruiter and Human Resources Expert before moving to Allianz SE in October 2020 as Team Lead in the University Relations department. In his position, he is responsible, amongst other things, for the implementation of the first Allianz Graduate Program, for the development of university partnerships and for all university recruitment processes.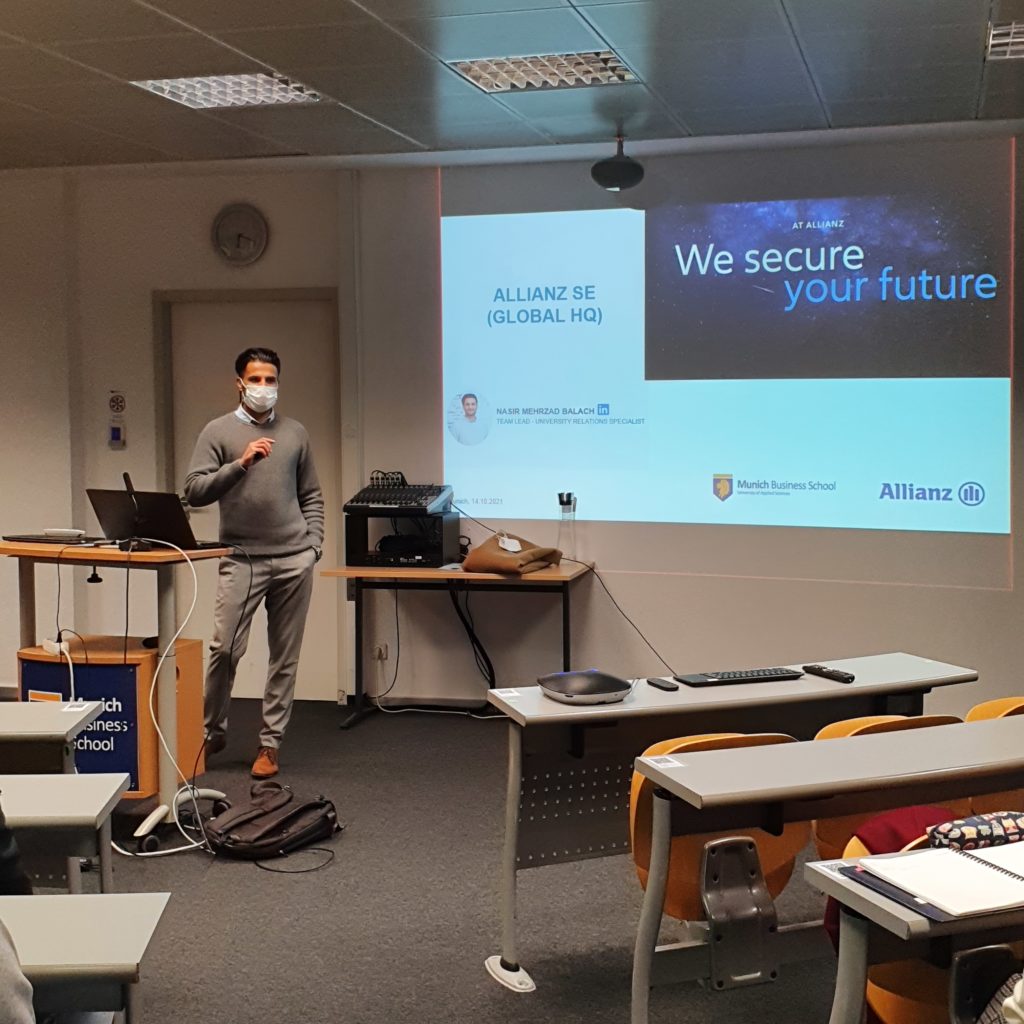 After his introduction, Nasir opened the quiz round, whose prize was an exclusive visit to the Allianz headquarters in Schwabing and a lunch with him and some other HR colleagues. To divide up the groups, Nasir asked the students to get together in teams of about five people that were as diverse as possible: different study programs, genders and nationalities. "I remember it myself from my student days, you always sit with the same people, but actually the mixing is much more exciting and enriching," explained the MBS alumnus. At the end of the quiz, there were even two winning teams who are already looking forward to visiting Allianz SE soon. "During the exclusive Allianz company visit, I want to implement my newly gained knowledge, for example that you should network outside your familiar network, and have fun doing it. In addition, my team and I are excited to learn more about the tasks and motivation of the Allianz HR team," explains Bachelor's student Nadja Donderer.
Following the quiz, Nasir provided insights into Allianz' corporate culture and shared exciting facts about the insurance company, such as that Allianz
co-insured the Titanic,
hires an average of 20,000 new employees worldwide every year,vier Filme versicherte, insured four Oscar-winning films,
attaches great importance to diversity and its various dimensions,
is interested in retaining and nurturing talent and offers its employees interesting benefits,
is the leading space insurer, and
takes a variety of measures to protect the environment and reduce CO2 emissions.
At the end of the presentation, the students had the opportunity to ask questions. MBS alumnus Nasir gave the current students three pieces of advice for their further career:
"At every job you should either learn or earn. Either is fine. Both is best. But if it neither, quit!"
"Find out in advance about the corporate culture of the company you're applying to, don't just ask about it in the interview."
"If you are persistent, you will have the job. If you are consistent, you will keep it."