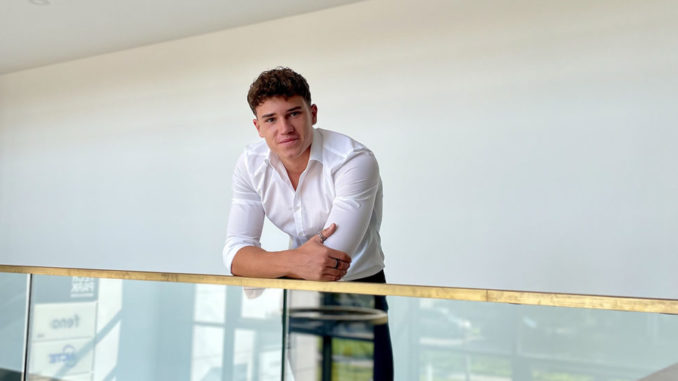 Lucas Reischl, a third-semester student on the bachelor's program in International Business at Munich Business School, made productive use of his recent vacation by completing a ten-week internship in marketing and sales at NCTE AG, a Munich-based sensor technology manufacturer. This was the young student's first taste of the world of work. We caught up with Lucas to hear about his experience.
---
MBS Insights: Hello Lucas! You made intelligent use of your summer vacation and completed an internship in marketing and sales at NCTE AG, a company in Munich that makes sensor technology. How did you find out about the internship? Did you already know about NCTE AG?
Lucas Reischl: Due to the strained situation in the labor market caused by the coronavirus pandemic, when I was looking to apply, the process of looking for an internship was rather unusual. Ultimately, after sending lots of applications to all kinds of different companies, it was only through a personal contact that I was able to get an internship at NCTE AG. Before that, I hadn't heard of the company because of its size and its area of business.
MBS Insights: Was it a conscious decision to work in marketing and sales? What were your duties during your internship?
Lucas Reischl: When I originally submitted my application, I was looking for a position purely in sales. However, that position had already been taking by another student, so I wasn't able to work exclusively in sales and had to combine both marketing and sales for my internship. My activities in relation to marketing primarily comprised working with an external communications company to form the mouthpiece of NCTE AG. My duties included drawing up the social media posting plan, attending the weekly sales meeting and liaising with the PR firm on marketing topics. I also had the opportunity to develop the NCTE stand concept for Eurobike 2021, design the corporate film and provide general organizational support. Beyond that, my activities in the Sales department also included several weeks helping to develop a new pricing strategy by conducting a competitor analysis.
MBS Insights: Now that you've completed your internship, what feedback would you give? What were you able to learn during your internship that you might now be able to apply in the rest of your studies? Is there a specific project you're particularly proud of?
Lucas Reischl: The thing that comes to mind straight away is the high degree of responsibility and freedom I was given in my work. This was accompanied by the need for a high degree of organization in order to complete tasks on deadline or in time for a presentation. I was also able to familiarize myself with various facets of the company and gain experience of things beyond the specific scope of my internship. To give you some examples, I took part in a sales workshop and attended Eurobike 2021 in Friedrichshafen. Looking back on my ten-week internship, the main feedback I would give would be exclusively positive. Something I can definitely take away and use in the rest of my studies is the experience of organizing work processes in order to tackle several tasks at the same time, plus the general insights into things like calculating product prices. I'm particularly proud of the outcome of the weeks I spent developing a pricing matrix for the NCTE product portfolio, which will be used as the basis for price adjustments from October.
MBS Insights: And, conversely, is there anything you were able to take from your studies at Munich Business School and apply during your internship? Do you think that MBS prepares its students well for their first experiences of working life?
Lucas Reischl: In the course of my internship, there were a few situations when my studies at MBS helped me to handle the tasks I'd been set. For example, when it comes to Microsoft Teams, the last two semesters at MBS helped me to integrate seamlessly into NCTE's Microsoft Teams platform. It is also – and this might seem a strange thing to say at first – thanks to the constant pressure of examinations at MBS that I developed stress resilience and the ability to organize my time when tackling different tasks. This meant that I never found myself in a situation where I had to apologize for mistakes or underperforming at any point in my internship. So, I can say with confidence that my first two semesters at MBS gave me a solid basis and prepared me for day-to-day work.