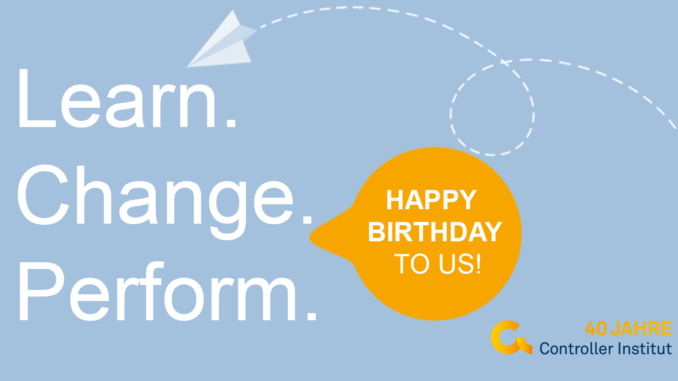 Since 2017, Munich Business School (MBS) and the Vienna Controller Institut have been engaged in a strategic cooperation in the field of professional education and training. The aim of this cooperation is to create a unique educational offering in the areas of strategic management, controlling, finance and leadership development in southern Germany.
---
With its seminars and courses developed by experts from science and practice, the Vienna Controller Institut has been successfully established on the Austrian training and further education market for 40 years.
Controller Institut – 40 Years of Expertise in Education and Training
It is fully committed to Peter Senge's credo on the learning organization: "Only those who learn quickly and in a targeted manner and attentively follow the changes of the times have the best chances of surviving on the market". This is more relevant today than ever before, because the transformative forces of digitalization, sustainability and new work mean that no stone is left unturned. This has far-reaching effects on the mindset in organizations, the understanding of leadership, the search for appropriate ways of working and methods. They determine what organizations and their employees have to achieve today and tomorrow: agility, adaptability and innovation are in high demand, expertise is required. The work of the Controller Institut is therefore dedicated to the question of how transformation can succeed in organizations and, in particular, in the CFO organization. Founded as a "synthesis of the arts" by Prof. Dr. Rolf Eschenbach at the Vienna University of Economics and Business, it was intended to promote training and continuing education in controlling, to link science and practice and to form a community of committed practitioners. This idea is the foundation of the success story of the Controller Institut and is also omnipresent in today's vision:
"The Austrian Controller Institut as a compass, pacesetter and partner of the learning organization, which imparts competencies to its customers quickly, flexibly and in a targeted manner. In this way, we help our customers to master challenges better than others, especially in the context of transformation."

Rita Niedermayr, Managing Director of the Controller Institut
In 2022, the Controller Institut celebrates its 40th anniversary as a market-leading education partner for business administration and management development in companies, non-profit organizations and public administration, with a focus on controlling, accounting, corporate finance as well as strategy and leadership. Every year, more than 3,000 participants take part in the institute's training and continuing education programs. Celebrate with us!
Cooperation Courses in 2022
During the year, Munich Business School and the Controller Institute offer the following courses:
Feb. 23, 2022: Certified Digital Leader
Feb. 24, 2022: Certified M&A Manager
Oct. 5, 2022: Certified Strategy Manager
Oct. 13, 2022: Certified Agile Project Manager
These and other selected programs will be held in Munich as well as in Vienna.
---


You are interested in economics and want to acquire in-depth business know-how?
Then the international business degrees at Munich Business School (MBS) are just right for you! At MBS you won't cram dry theory from old textbooks, but learn in a outcome-oriented way and gain valuable practical experience. Convince yourself:

Bachelor's in International Business
Master's in International Business
Master's in International Business I Finance
Master's in Innovation and Entrepreneurship
Master's in International Marketing and Brand Management
Master's in Sports Business and Communication
MBA General Management
Doctor of Business Administration