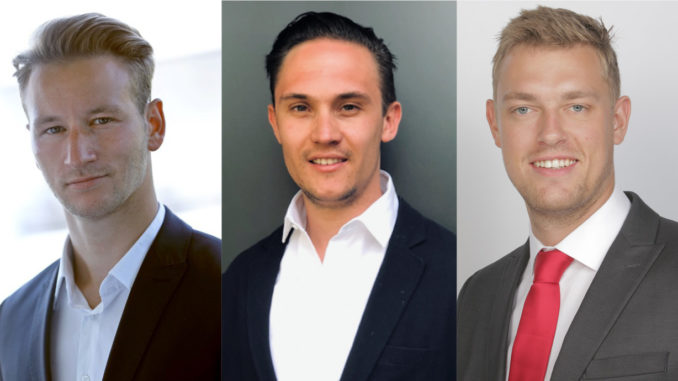 In the second interview episode, (former) professional athletes Lucas Kröger, Heiner Längst and Max(imilian) Maas talk about the lessons, experiences and competencies they take away from professional sport and how they can use them for their careers after sport. In addition, the master's students reflect on their decision to study International Business and Sports Business and Communications at Munich Business School and take a look at their professional and sporting future.
Note: The interview was originally recorded as a podcast. This text is a transcription and translation of the audio recording. The audio version of the interview (only available in German) can be listened to here. 
---
Wiebke Lehnert: Well, here we are for the second MBS podcast episode on the topic of professional sport and studying – welcome, everyone! I'm Wiebke Lehnert, Marketing & Communications Manager at Munich Business School, and today I'm sitting down again with MBS students Lucas, Heiner and Max. In the last episode, the trio shed light on the field of elite sport and gave us an insight into the world of professional athletes. They shared a selection of their wide-ranging experiences with us and I'd like to touch on that again in this episode before moving on to discussing studying and professional careers. Max, could you tell us something specific that professional sport has taught you? Are there any experiences you look back on now and apply to your journey after sport?
Max Maas: Sure. I think that, when you decide to become a professional athlete, you grow up very quickly. I was 14 when I said to my parents: "Mom, Dad, I want to go to the ski boarding school, I want to leave home, I want to live my dream." That certainly isn't easy for parents to deal with and, from that point on, you're on your own to a degree. Of course, I was always able to rely on my parents being there for me at any time, day or night – and I still can. If I ever have questions, they're there for me. But you're living away from home, at a boarding school; you're living your dream, but you grow up and become independent very quickly. A lot of people might not see that as a good thing, but I think it's a good thing if, at the age of just 14, you're already very independent and grow up quickly in pursuit of your goals. That's definitely something very positive for me. You learn to handle things well and develop self-management and time-management because you have different highlights over the course of a year and you need to be perfectly prepared at all times. For my part, I know that if I have an exam or a paper to submit, I'm the type of person who will be prepared well in advance. Professional sport, all the traveling it involves and the various climaxes it entails mean that I've learned to organize myself and my time very well, so I'm extremely well prepared when the time comes. I've talked about this with my classmates at MBS, too. I submitted a paper really, really early and they were asking: "Hey, how did you manage that?" But then, thanks to professional sport, I can say that I don't need any pressure to prepare myself for something. I'd rather finish something two weeks early and then take another look at it again just before the deadline but, as a professional athlete, I didn't have time do something for uni right up to the deadline. It just wasn't an option. I had to plan clearly and precisely when I would have time – and then make good use of it. And it's true that you can learn effectively without pressure, but from professional sport I also know that I work well under pressure. In fact, this pressure can even be really fun, and that's also something that I learned from professional sport. You get to know yourself very well; you know what's on the line and you can use all these individual building blocks. I'm also aware that we're at a different point in time now – it's great that we were successful, very successful in what we did out there on the pistes, but this isn't that time anymore. On paper, the fact that I can ski quickly doesn't do anything to help me or my ambitions to make progress in a given management field. However, I can pick out various points from my career that taught me something: "Max, you know how you work best, so use it." And so, on that basis, I can prepare myself as effectively as possible for the second stage, the stage that's coming up next, and give my best in order to meet my goals.
Wiebke Lehnert: Okay, and what about you two, do you have anything to add?
Heiner Längst: I think Max put it very well. Professional sport teaches resilience, often through very hard lessons. But I think it's also important to point out that you still have to make the most of it. You have to reflect on things. You have to look reflectively at your experiences during your time as an active athlete and consider how they can actually help you in your life in a company. If you don't go about things reflectively, then I think you'd find it difficult to extract the benefits. And, as Max has already said, there are so, so many advantages that an elite sportsperson can bring to bear in a company. Resilience, working under pressure, setting targets, these are the ABCs of mental training – and that's second nature to us. In my opinion, that can represent real added value. But, as I said, as an athlete you need to be conscious of those things. And just because a person was an elite sportsperson doesn't mean that they'll make this transfer. The challenge is to translate the benefits of sport into your professional career after sport. And so that's where you need to look at things reflectively – and I'd say that, by doing so, you can make a lot more from the symbiosis of sport and business.