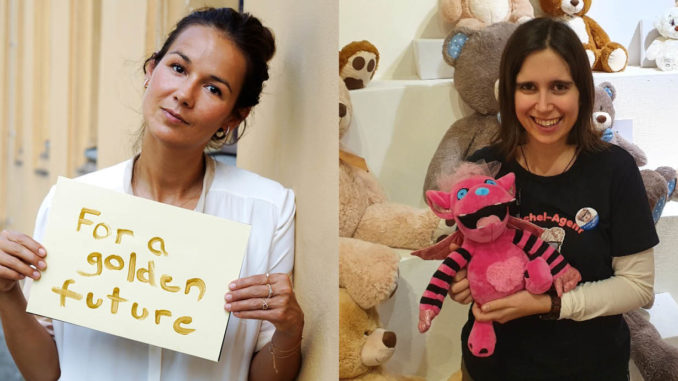 The fact that Munich Business School approaches business management from a holistic perspective is certainly no secret. Consider, for instance, Success Happiness Factor and Conscious Business, two popular and firmly established (elective) courses in the university's master's programs. But how exactly can a company sell happiness while at the same time pursuing a higher purpose? MBS students had the opportunity to find out on March 5 at the Happiness Coffee Afternoon organized by Professor Dr. Schmidkonz, which featured as guests Guya Merkle, the founder of VIERI Fine Jewellery, and MBS alumna Josephine Dransfeld, business owner and CEO at HEUNEC International.
---
Although their products – gold jewelry and stuffed toys – are entirely different, there are remarkable similarities between the journeys the two women have traveled through life. Both Guya Merkle and Josephine Dransfeld came into contact with these products at an early age in businesses run by their families. All the same, it was not always certain that the pair would one day assume control of them. In addition, they have both experienced strokes of fate and encounters with nature that caused them to rethink matters and revolutionize their sectors. But let's look at their stories in turn.
Guya Merkle is the daughter of a jewelry dealer and grew up in Pforzheim, the beating heart of the German jewelry industry. Following the sudden death of her father when she was just 21, Guya decided to take over the company – without any in-depth understanding of the world of business or the jewelry industry. The initial years proved difficult, but she furthered her knowledge at the GIA in London, immersing herself in the world of jewelry, gemstones, minerals and pearls. During her time there, she saw a photo of a gold mine that stuck in her mind. She decided she needed to see things for herself, so arranged a visit to a gold mine in Peru. When Guya arrived, her first impressions were confirmed: she was horrified at the perilous conditions in which people were mining for gold, without being told about the consequences of their work – or even being given a choice in the matter. Shocked by the gaping disparity between the people mining raw materials and the luxurious world in which they were sold, she returned with a clear objective of making a positive difference. This mission began in 2012, when Merkle founded the Earthbeat Foundation. In 2014, she launched her own brand, VIERI Fine Jewellery, which works exclusively with ethically sourced and recycled gold from mobile phones.
After completing her bachelor's degree at Munich Business School in 2012, Josephine Dransfeld felt like the happiest person on Earth. She was fresh out of university and immediately landed a fulfilling job at the Adconion Media Group. Jackpot! However, that joy didn't last long. Following a prolonged period of decline, the company shut down all of its locations in Germany in mid-2013. Newly unemployed, Josephine embarked on a three-week solo trip to New Zealand and soon after decided to enroll on a master's program at the University of Canterbury. This one-year degree was followed by a further three years in New Zealand – and this period, along with the country itself, would shape Josephine's awareness of sustainability. During a visit to a glacier, Josephine could hear the glacier moving at night; she became aware of her deep connection to nature and learned to value the planet Earth. When she returned to Germany in late 2016, it was clear that she would assume control of the family company, HEUNEC. But more than that, she knew she wanted to adopt a more conscious approach to the environment, in keeping with the credo: if we have to consume, then let's at least do so in a fair and sustainable manner. HEUNEC's stuffed toys bring joy to adults and children alike, fulfilling the human desire for care and closeness. However, through its use of GOTS-certified cotton, the company is also revolutionizing the stuffed-toy industry, which typically resorts to the problematic material polyester.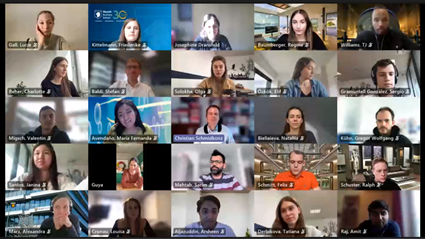 Another similarity between the two female leaders Guya Merkle and Josephine Dransfeld came to light during their exchange with our MBS students. Both regard sustainability as far more than an awareness of how we handle and use natural resources: beyond that, it means adopting a mindful and responsible approach in interactions with all stakeholders – and it doesn't stop at the limits of your own company. Through the Earthbeat Foundation and initiatives like World Gold Day, Guya Merkle hopes to raise awareness of problematic aspects of the gold industry and promote a value shift within the jewelry industry. Meanwhile, as a co-founder of the Fair Toys Organisation, HEUNEC supports other market players in their efforts to move towards socially and environmentally sustainable toy manufacturing. Even though it hasn't always been easy for Guya and Josephine to believe in themselves, and it can still be difficult to stand firm against criticism from doubting voices and find suitable customers for an unusual business model, it is the desire to make a difference that drives these two young entrepreneurs – and that is what they wanted to pass on to our students. Working towards a higher purpose and striving to make a difference can also bring you personal happiness.
Josephine Dransfeld finished her talk with some personal tips and a few guiding questions. These form the perfect end to this article and should provide food for thought:
Do your research. Figure out what really matters to you.
What would you love?
Start with WHY.
Your decision matters.
---


You are interested in economics and want to acquire in-depth business know-how?
Then the international business degrees at Munich Business School (MBS) are just right for you! At MBS you won't cram dry theory from old textbooks, but learn in a outcome-oriented way and gain valuable practical experience. Convince yourself:

Bachelor's in International Business
Master's in International Business
Master's in International Business I Finance
Master's in Innovation and Entrepreneurship
Master's in International Marketing and Brand Management
Master's in Sports Business and Communication
MBA General Management
Doctor of Business Administration