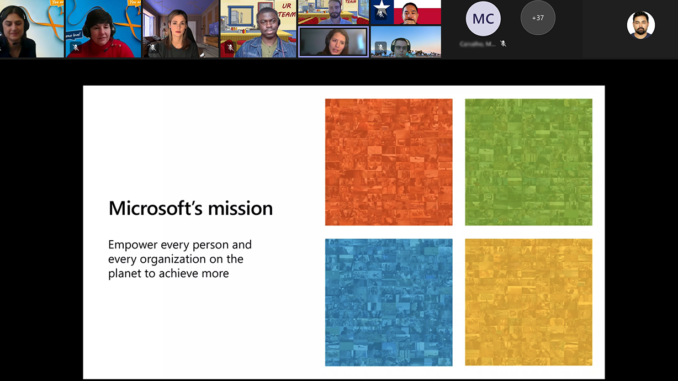 At the end of February, the MBS Career Center invited MBS students to an online career event with Microsoft Germany. In addition to a company presentation, a selected group of students also had the opportunity to participate in a business challenge workshop in which they were asked to design an app for new hires.
---
Microsoft is a pioneer in the IT and software industry and a sought-after employer for many (prospective) university graduates. MBS Career Center Manager Stephanie Stangl was all the more pleased to welcome the global company to Munich Business School as part of an online career event.
The evening started with a one-hour company presentation. After an entertaining and fun quiz, in which all MBS students participated and proved their Microsoft knowledge, Business Program Manager Delia Raetzsch gave an introduction to the Microsoft universe. She focused in particular on the mission and the corporate culture: Microsoft sees itself as one big diverse and inclusive family. Customer obsession as well as the enthusiasm to learn new things, to go beyond oneself and to make a difference are central pillars of Microsoft's corporate culture and drive the employees in their daily doing. Lucia Ferreiro Martinez then took over and spoke about her Microsoft journey to date. In 2016, she started as a Business Analyst in Dublin, moved to the role as Operations Deal Manager after a year, and has now been working as a Business Program Manager at the German headquarters in Munich for a little over a year. As Lucia herself is an MBS alumna – she completed her master's degree in International Business in 2016 – she was able to empathize well with the participating students and strengthen their self-confidence in taking the step to Microsoft. For example, she explained: "You don't have to be a technology expert to work at Microsoft, but you should be passionate about technology!" In the last part of the company presentation, University Recruiters Kenny Smiles Lartey and Tom Kwiatkowski presented how to get started as a student or graduate at Microsoft. They presented the Student Explorer Program and the Aspire Program, gave an insight into the application process and shared useful tips on how to best prepare for interviews.
Afterwards, the group was reduced to 24 students, who now had the exclusive opportunity to delve deeper into the Microsoft world as part of a business challenge workshop. Alexander Douchet, Irina Chemerys, Alexander Thiede, Rosina Chan and Anastasia Karageorgiou divided the students into three groups and mentored them in break-out rooms. The goal for the next two hours was to design an app for new hires, including identifying the market share potential and building a Go-to-Market strategy. During the challenge, students received valuable leadership input from the Microsoft senior management team consisting of Alexander Douchet, Irina Chemerys and Alexander Thiede. The evening ended with innovative ideas and inspiration on both sides; MBA student Shuvam Dhar was enthusiastic: "The career event with Microsoft was great and very valuable for us students who will soon enter the job market! We got a good and comprehensive insight into the company and the Microsoft representatives were very supportive and helped us clear our doubts regarding employment opportunities and leadership challenges. Thank you!"
We would also like to thank the entire Microsoft team on behalf of the university and are already looking forward to further joint events!