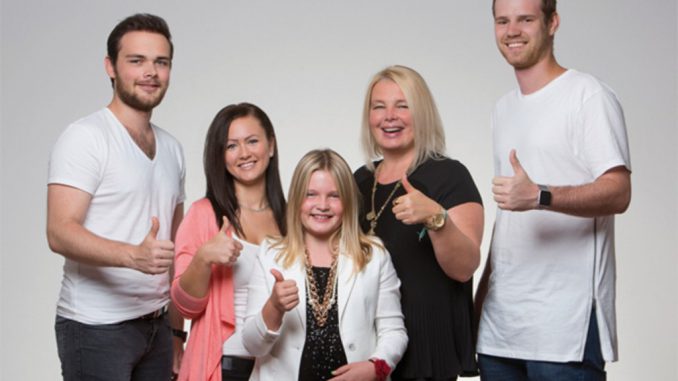 Entrepreneurial spirit and technical know-how
For quite some time, Alexander had wanted to set up his own business. "Studying at MBS then further boosted my interest in business and the management of an enterprise," comments the Bachelor student. "During a non-lecture year, I decided to go the whole way and found my own company. I spoke with several of my lecturers about the project and, in addition to much valuable advice, I received a lot of positive feedback. Of course, this encouraged me and boosted my start-up mentality even more."
From the concept to an own company
The idea of SCHÜSCHU came from Tünde Schießl, Alexander's mother. "She formerly worked in the fashion industry, hence the creative background," reports Alexander about the beginnings of the business idea. "A few months after the birth of my little sister, she noticed that she kept buying toys but lacked the room to store them. In addition, the girl lost interest in the toys very quickly, and they were soon left lying in the corner."
From this situation emerged the idea to develop a combination of toys and storage system: SCHÜSCHU – as the product and the company are named today – was born. By the way, the catchy name came from Alexander's little sister Lilly: "Schüschu – for 'shoes' – was her first word."
The SCHÜSCHU system is based on the concept of a basic box, the Toybox. It serves as storage room but can be modified into all kinds of objects by countless extension modules: "The great thing about it is that the system grows alongside the needs and wishes of the child. With the help of a learning module, the box can be used as an educational toy for toddlers. Later, it can be converted into a rocking horse or an airplane. After playing, everything can be neatly put away into the box, which saves space. This multifunctional character makes SCHÜSCHU a unique product."
Original idea and naming were followed by market analyses from a renowned consulting company, commercial and patent registrations, application for design copyright protection and so on. "My parents did a lot of preparatory work, which I can build on now. In the past months, I have been very busy with the next steps to realize SCHÜSCHU: Finding a production partner, planning the market launch and so much more. This way, I found my place in the management of the business."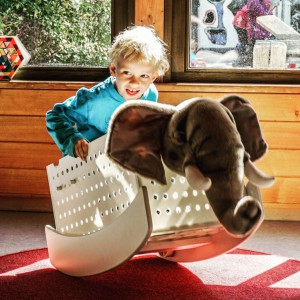 Sustainable toys
The Schießl family makes all company-relevant decisions together, as co-operation is a high priority within the young entrepreneurial family from Augsburg, Germany. Alexander's mother Tünde is the business manager and, moreover, the driving force in creativity and product innovation. Christoph, Alexander's father, looks after the finances.
Being entrepreneurs, however, means more to the family than just establishing a company and launching an innovative product to the market. The Schießl family, in addition, places high emphasis on sustainability and eco-friendliness: "With SCHÜSCHU, we want to countervail the throwaway society. The materials we use are perfectly suited for children and contain neither BPA nor any other carcinogen substances and they are 100 per cent recyclable. Additionally, it is part of our concept to establish an online platform through which our customers will be able to trade used products for new merchandise at a favorable price or to swap modules with other customers."
From Augsburg to SCHÜSCHU World
For the time being, SCHÜSCHU products will be marketed exclusively via an own online shop. But Alexander and his family have even greater plans: They are planning a SCHÜSCHU WORLD. It will include a letter friend program and a platform where customers can present own ideas for SCHÜSCHU, from which the entrepreneurial family intends to realize the best suggestions.
In addition, the SCHÜSCHU App will appear in December. It is a funny and simultaneously educational mobile game for smartphone and tablet, aimed at boosting children's cognitive capabilities. And even a proprietary SCHÜSCHU animation series is in preparation for the coming year.
The drafts for it were made by US director and animation specialist Greg Manwaring who previously was involved in blockbusters such as "The Lion King", "Asterix and the Vikings" or the successful series "Family Guy".
"Realization of all these elements stands or falls with the successful launch of the basic product, the SCHÜSCHU Toybox. The more successful we are at the start, the sooner we will be able to implement the comprehensive SCHÜSCHU World concept and generate genuine added value for our customers."
Financed by crowd funding
The financing plan is just as innovative as the product itself: Alexander goes for crowd funding for the start-up financing of SCHÜSCHU. "At the one hand, we will be able to acquire capital independently from banks, on the other hand, we will have the opportunity to make as many people as possible aware of our product – and to get them excited. We hope we will succeed with both."
The international campaign at the crowdfunding platform Kickstarter has started on November 9, 2015. "Because costs for the realization of SCHÜSCHU are relatively high, we will try to get as much capital as possible with this campaign. The official funding goal will be 39,500 Euro. If the campaign is successful, we will start production and deliver the first SCHÜSCHU Toyboxes in July, 2016.