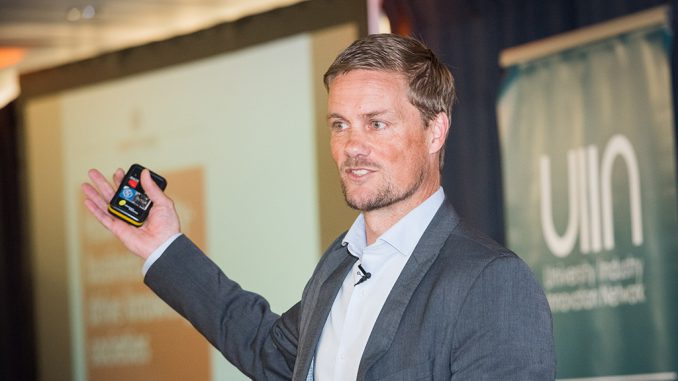 Earlier this month, MBS Professor Dr. Todd Davey delivered keynotes focusing on the topic of university-business cooperation at the "Knowledge bridges for growth" Conference as well as the University-Industry Interaction Conference.
Knowledge Bridges for Growth
The "Knowledge bridges for growth" Conference was hosted by REG LAB Denmark in Copenhagen on June 1, and held at the Klampenborg Galopbane (Klampenborg Racetrack), attended by 250 people. The theme of the conference was how can we create better models for collaboration between universities (and other education institutions) and SMEs that lead to regional development and growth?
The keynote presentation by Dr. Davey was "State of European University-Business Cooperation" and highlighted the problematic development of university-business cooperation in Europe including how it can support the development of the knowledge society. The conference was attended by all the relevant decisionmakers and actors in the Danish innovation system – ministries, regions, universities, clusters, and business support organizations.
University-Industry Interaction Conference
The University-Industry Interaction Conference was held on June 9, 2017, at the famous Aviva rugby stadium in Dublin, Ireland, and attended by 500+ people.
The topic of Dr. Davey's the keynote was "How university-business can drive knowledge societies" about how universities can engage more impactfully with its environment to affect positive change. Attendees ranged from government ministry officials, leaders of innovation from business, universities board members, directors and managers, regional innovation actors as well as knowledge transfer professionals. Dr. Davey also ran a three-hour university-business cooperation workshop with 60 participants and made three other presentations within the conference.