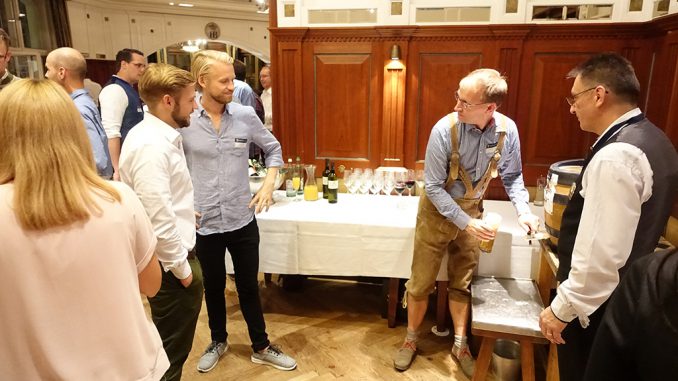 For the first time in MBS history, Munich's world famous beergarden restaurant, the tradition-rich Hofbräuhaus, was the venue for the MBS Alumni Reunion event. About 70 alumni, lecturers, and staff of Munich Business School gathered for an evening full of memories in a cozy athmosphere.
The event was opened by Professor Dr. Stefan Baldi, Dean of MBS, who tapped a keg of delicious Hofbräuhaus beer in the same fashion the Munich Oktoberfest is traditionally opened. Following, Martina Dengler, Alumni Relations Manager of MBS, welcomed the guests. This opened the buffet, and everyone enjoyed delicious treats of the Bavarian cuisine.
As it is a tradition at MBS Alumni Reunion events, the guests were offered a workshop on a trending topic. This year, it was on Dr. Patricia Kraft, Professor at MBS, and Master International business alumna, Alexandra Albon, to present their award-winning paper on "The Wisdom of strangers on the Internet – Customer Reviews and their perceived credibility on social media platforms".
The event continued until late into the night, with the alumni enjoying animated talks about the good old student days. We would like to thank everybody for joining a memorable Alumni Reunion 2018 event. Have a great fifth season, as the Oktoberfest period is known in Munich!