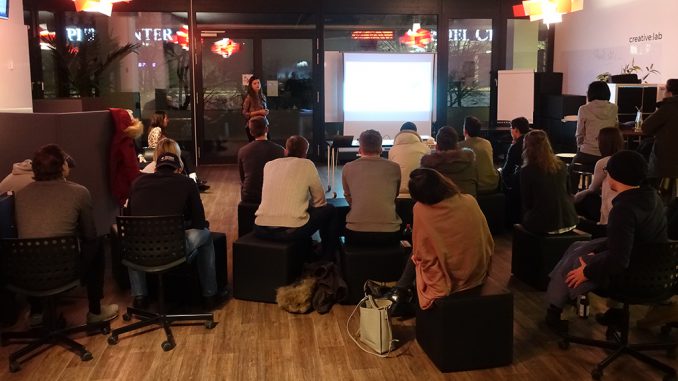 Yesterday's "Family Affairs" event marked the second part of the four-part lecture series that focuses on the joy and challenges of entering, leading, changing, and exiting a family business. The series features several MBS alumni guest speakers who are connected to a family business and share their insights with current MBS students.
While the first event focused on phase 0 (before entering a family business) and phase 1 (getting started in a family business), the event organizers, MBS alumni Dr. Natalie Djodat and Robin Knopf, dealt with phase 2 this time, which was about standing your ground and developing your own leadership style after getting into a family business.
Left picture: Dr. Natalie Djodat, Dr. Alessa Witt, and Robin Knopf (f.l.t.r.), the speakers of the second "Family Affairs" event. Right picture: Dr. Alessa Witt held a presentation on the digitalization and internationalization of family businesses.
They were followed by another MBS alumna and Marketing Specialist Mittelstand at Salesforce, Dr. Alessa Witt. Alessa, who owns a family business background herself and is a proven German Mittelstand and hidden champions expert, gave a presentation on phase 3: change management, internationalization, and digitalization of family firms.
The evening was concluded with a Q&A session. Special thanks go to Nigina Ihle, yet another MBS alumna, who provided a delicious buffet for the event.
The next events of the "Family Affairs" event series will take place on Wednesday, April 11, at 6:30 pm, and Tuesday, April 17, at 6 pm. More information is to be found here.