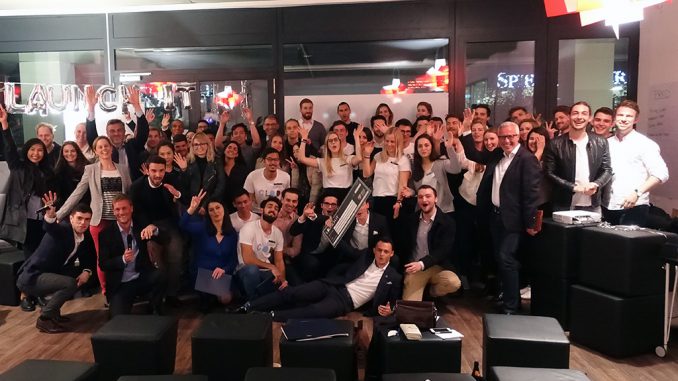 Monday evening, the MBS Lounge was the venue for the second edition of the MBS LaunchIT Pitching Competition event, presented by 71circles, and organized and hosted by the students of the Master Sports Business and Communication program. Six Bachelor International Business student teams had lined up to present their business ideas to their fellow students as well as to a jury comprised of MBS Professors Dr. Barbara Scheck, Dr. Todd Davey, Dr. Alexander Hahn, and lecturer Michael Berchtold of eSportsReputation.
The event focused on fostering the start-up spirit at MBS, and to select one student team to represent Munich Business School at the University Startup World Cup in Copenhagen, Denmark, following suit with team Helmight (then named team FITFLY), the winner of last year's MBS LaunchIT event.
To start the event, Master Sports Business and Communication student Conan Furlong, the host of the evening, welcomed the audience, followed by an interview of Prof. Dr. Stefan Baldi, Dean of Munich Business School, who shared his insights on the entrepreneurial spirit and start-up culture at MBS. Then, Dirk Pahre, CEO of 71circles, shared his thoughts and insights on entrepreneurship and starting a business.
AirBnB for Parking Spaces, Designing Your Own Jewelry, and a Pet Café
Next, it was about time to start the actual pitching competition. Team PRKD was the first to enter the stage, and to present its business idea to the audience and jury: an AirBnB-like app that allows people to make some extra money by leasing out their private parking spaces, and allows others to easily rent private parking spaces for a limited time and for a very attractive price.
Next was the one-woman-team of Nazrin Rahimova, who showcased her business idea, Bijou by me, an app that offers customers a platform with a given configurator to design their own jewelry, which will then be crafted and sent to the customer-designer.
Bunnies hopping around in a café? That is what the business idea of team The Rabbit Café is based on. Modeled on pet cafés that are especially popular in Asian countries, the students are planning to open The Rabbit Café in the centre of Munich, promoting a happy and balanced lifestyle with animals and healthy food (a pop-up Rabbit Café to test the idea already generated very positive feedback).
A Frosty Food Truck, Gin for Men, and Hygiene Products for Women
After a short break, jury member and MBS lecturer Michael Berchtold took the stage. He introduced his business, eSportsReputation, an esports consultancy and marketing agency, and shared his entrepreneurial experiences with the student audience.
Enter team CLOD. The team has developed a business concept featuring an ice cream truck that offers a distinctive ice cream experience based on three pillars of different tastes: basic, food trends, and creative flavors. As a sample – and to make the jury members side with their business idea? –, the four students even brought some of their self-developed, handmade ice cream: Olympian (chocolate and banana), Sweet Sensation (lavender and honey), Coconut, and Oasis (dates).
The next student group to showcase its start-up idea was team Month 2 Month, who presented its subscription-based service that provides customers with the best selection of tampons, pads, and other female hygiene products all bundled up in cute little boxes they call "Self-care Packages".
Last, but not least, team Speakeasy entered the stage as the final contender, aiming to improve the lives of gin enthusiasts by providing them with all-in-boxes including samples of gin, tonic water, and botanicals on a regular basis – hence enabling them to test various international gin brands with a simple mouse click.
The Moment of Truth: Who's Going to Copenhagen?
Then, the moment of truth for the six teams had come. Firstly, it was the audience's turn to vote and crown their winner of the competition. In a heart-stopping finish, team CLOD managed to secure the win by a slight margin, receiving 25 % of votes and relegating team PRKD (23 %) as well as team Speakeasy (20 %) to second place and beyond.
It was then time for the biggest decision of the evening: the jury vote, which would decide about who would go to Copenhagen to represent Munich Business School in the University Startup World Cup. And the winner is… team Speakeasy! Congratulations to Harrison Langenfeld, Jan-Niklas Bullert, Nicolas Reineke, Wolfgang Seibert, and Luca Müller!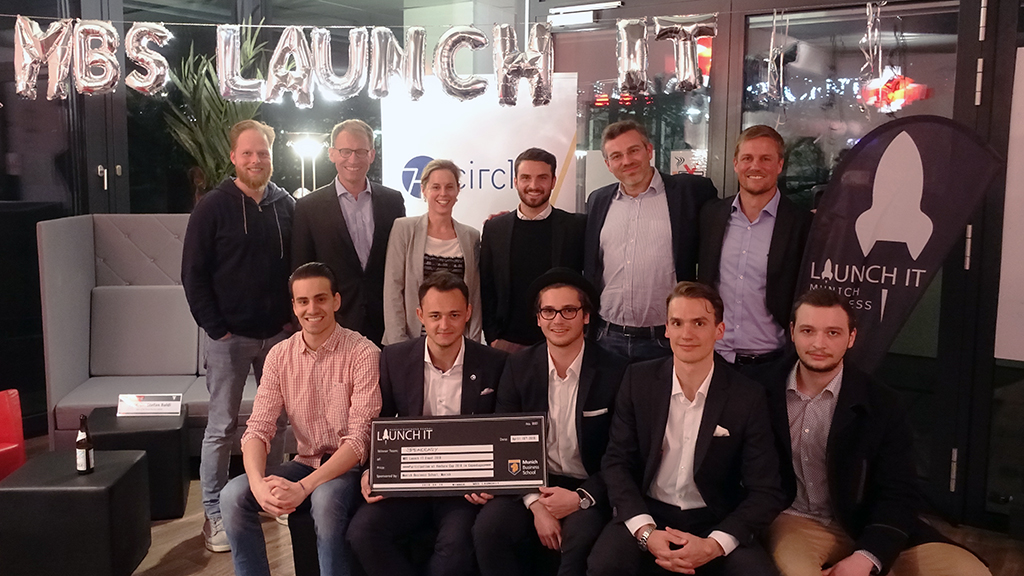 After and evening full of great business ideas and pitches, as well as an exciting finale, the organizers, competing teams, jury members, and audience guests continued the event with some drinks and a raffle, which featured awesome prizes such as The Duke gin, tickets for various events and activities, FC Bayern Munich merchandise, organic coffee, and – as the star prize – a game-worn and signed Mats Hummels jersey.
We would like to thank the sponsors and partners of the MBS LaunchIT 2018 pitching competition for making this great event possible: 71circles, Sky, Segway Tour Munich, FC Bayern Munich, The Duke Destillerie, röstperle organic coffee, Circus Krone, and Gut Rieden golf club.
Special thanks go to the student teams, who did a great job and contributed to a memorable event in a very special way!