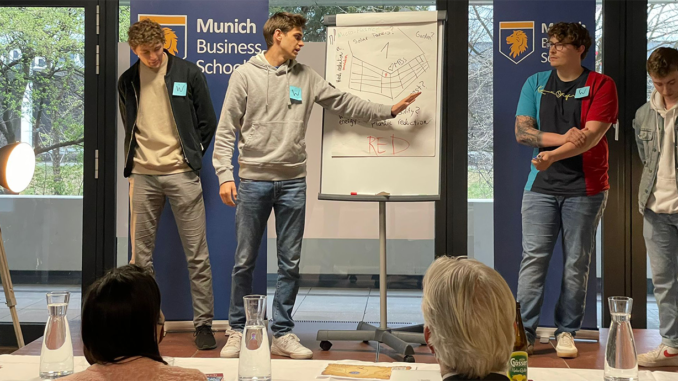 On the night of 31st March 2022, the MBS Entrepreneurship Club hosted its first event: a consultancy game simulation. MBS students from all programs were invited to participate in this unique entrepreneurial event.
---
At the end of March, the MBS Entrepreneurship Club organized a fun and interactive event in the MBS Lounge where MBS students from bachelor's, master's and MBA programs gathered in teams. The goal of this consulting game was for each team to act as a consultancy firm and provide innovative solutions on how Munich Business School could become more sustainable. The teams had 40 minutes to come up with creative ideas, 5 minutes to pitch their solution to the jury, and another 5 minutes for a Q&A session. The jury, composed of Prof. Dr. Anne Tryba, Chancellor Christine Menges, Prof. Dr. Christian Schmidkonz and Prof. Dr. Michael Rüdiger, represented the MBS community and so, collectively selected a winning team.
The ingenious ideas of the teams varied from having a sustainable club and projects to waste reduction and efficient paper and water use. The winning team, team red, provided a long-term solution including implementing renewable energy, decreasing plastic usage, and creating a sustainable club. Their proposal involves all members of the MBS community (students, professors, and staff) to make MBS more sustainable.
"The event turned out to be better than expected. We, the MBS Entrepreneurship Club, are very happy about the outcome: everyone had fun, students were challenged, and the club accomplished its mission to foster the entrepreneurial mindset of all participants", said Sofia Restrepo, President of the MBS Entrepreneurship Club.
And also the participating students were satisfied with the evening:
"The event exceeded my expectations. I enjoyed spending some time with my peers and being able to share our ideas. I liked how the night was organized in a way that challenged all participants. I would recommend the MBS Entrepreneurship Club events."

Alessandro Sacco, MBS bachelor's student and member of the winning team
"I was very satisfied with the event. I liked the group work structure surrounding a case study. The presentation element required participants to take it seriously."

David Klemp, MBS bachelor's student and another member of the winning team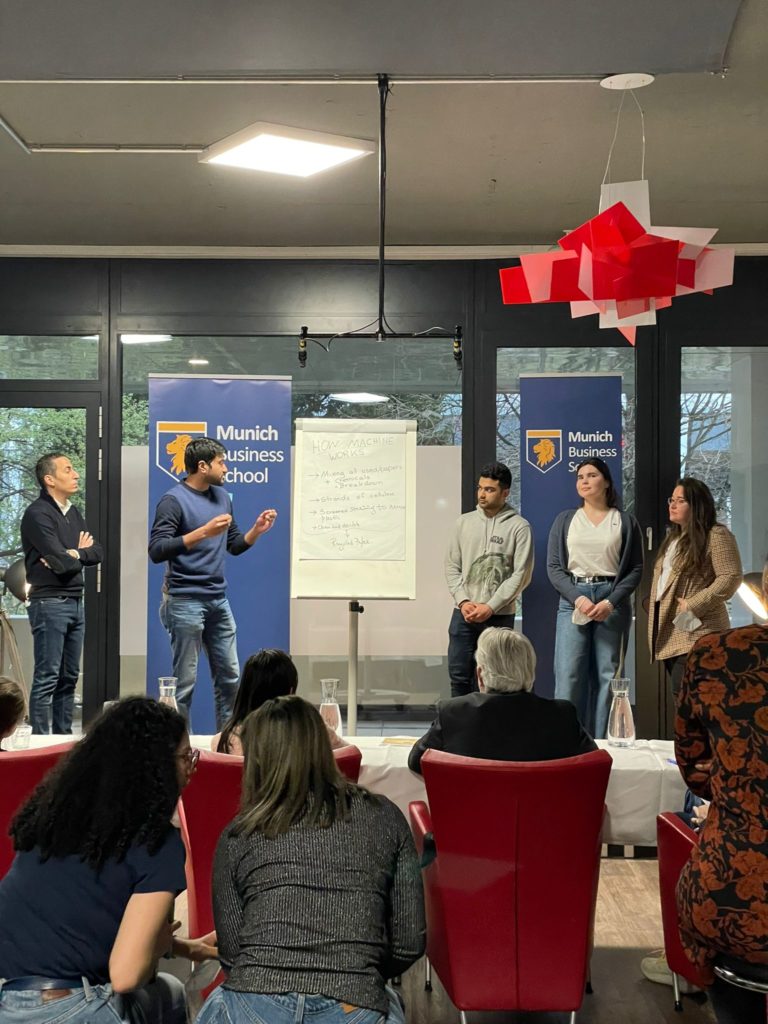 Big thanks to all members of the club, the jury, the MBS Welcome Desk, the MBS marketing team, MBS Alumni Relations Manager Martina Dengler, MBS Career Center Manager Stephanie Stangl as well as Dean Prof. Dr. Stefan Baldi. Without their help, this event could not have taken place. Additionally, the club would like to thank Christine Menges for sponsoring food, drinks, and the prize for the winning team, as well as AMEA Cuisine for providing us with pizzas for all participants.
The MBS Entrepreneurship Club is thrilled to organize more events like this one in the upcoming semesters. Stay tuned!