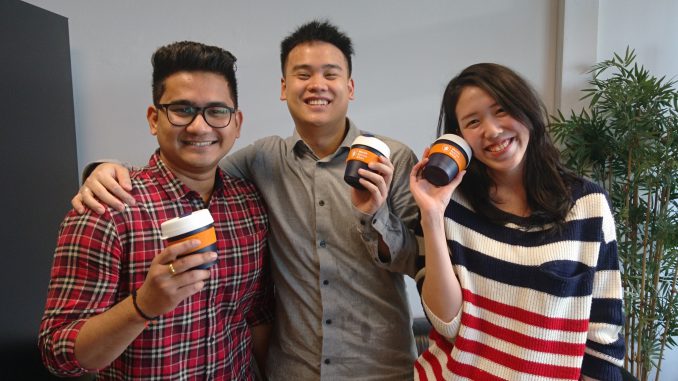 Did you know that Germany consumes approximately 162 litres of coffee per capita? This makes it the most popular hot drink in the country. Our campus could be no different! After all, coffee offers a wide range of benefits, such as improved energy levels or comfort on a cold morning.
Nevertheless, disposable coffee cups are a main source of waste worldwide. On one hand, many of us go through several takeaway hot drinks every day. On the other hand, disposable cups tend to end up in a trash can. It is difficult to recycle such cups: despite being made largely of paper, they are lined with plastic polyethylene, which often requires special recycling facilities. Another recyclability issue is that these cups are contaminated with drink.
Inspired by the success of our branded reusable water bottles, which are offered to each student as part of their welcome kit, our Master student, Catarina Capelo Moreira, suggested a branded reusable coffee cup to support our community to start the new decade more sustainably.
The idea was met with great enthusiasm and came to life in a joint effort between the university management and student council. The MBS reusable coffee cup is light, practical to carry and so easy to wash. Also, it is BPS and BPA free and includes a thermal non-slip brand plus a push-close seal.
You can use the MBS reusable cup to buy hot beverages from the vending machine in the study room. Or if you get your takeaway coffee outside of our campus, you can always ask the barista  to put the drink in your cup. Last but not least, our branded cup is a convenient souvenir to take MBS with you wherever you go.
Don't forget to get your cup at the Welcome Desk completely free of charge. With our reusable coffee cup in your bag, it's always coffee time!