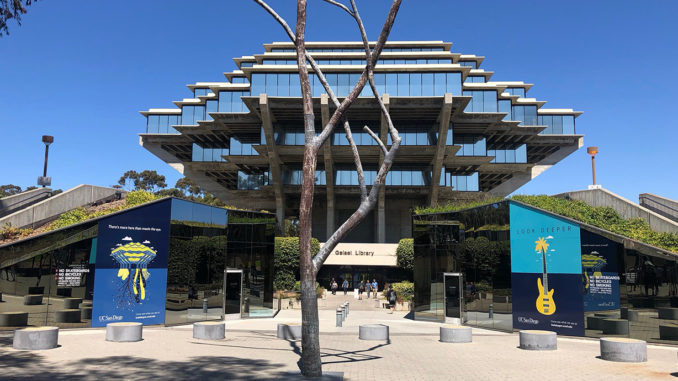 Philipp Hoffmann, student in the master's program Sports Business and Communication at Munich Business School (MBS), spent his semester abroad at the University of California in San Diego, USA. In the blog post, the student talks about his experiences during his semester abroad in Southern California and shares interesting insights.
---
When the choice for the semester abroad comes up in the second master's semester, it can be a little overwhelming because of the abundance of offers at MBS. That's what happened to me in the spring of 2019, when I finally decided to visit the University of California in San Diego (UC San Diego).
Why did I choose University of California, San Diego?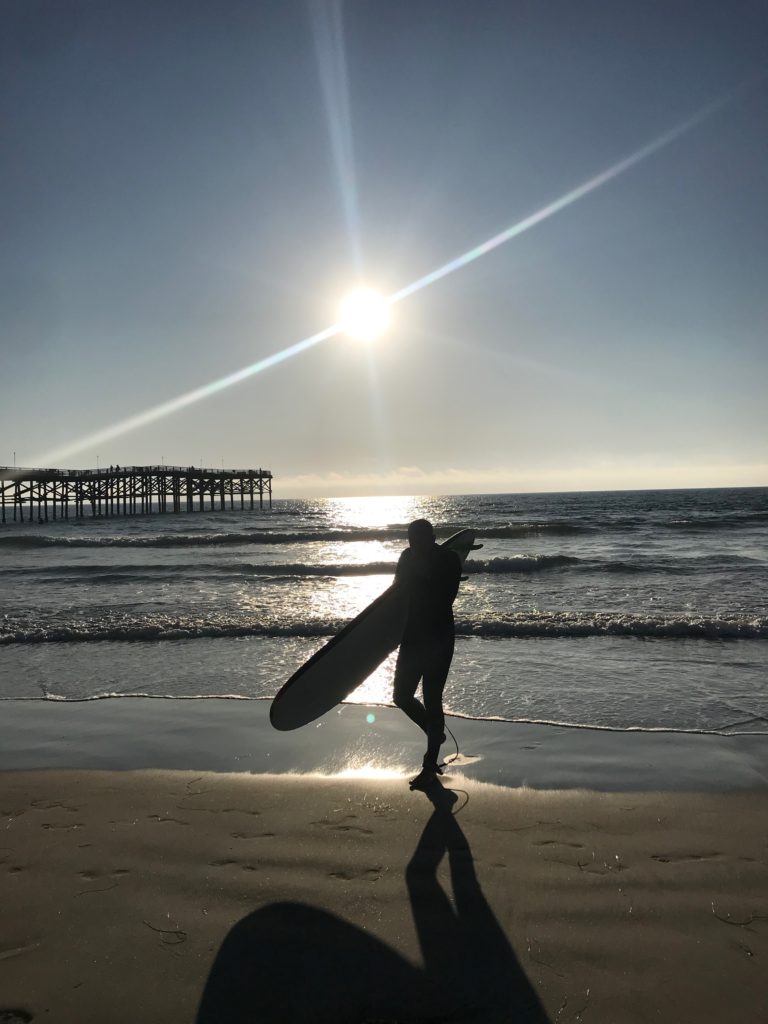 When choosing the right place and the right university, four criteria were important to me: A prestigious university with high-quality and appropriate courses, English as the national language, a city by the sea, and summer temperatures. After some consideration, I chose the USA. First I thought of UCLA in Los Angeles, but this city was simply too big, too loud and too confusing for me, so I quickly became aware of San Diego, which is only 120 miles away. As in nine other cities in California, San Diego is host of a University of California (UC). This is a system of state universities which operate independently, but share a reputation for groundbreaking research and innovation.
Nearly everyone has heard of the 1.4 million-strong city on the border with Mexico, but few people really can imagine what it is like. That's how it was for me too. Google immediately tells you about "America's finest city", as the city is called because of its pleasant climate and the living conditions there, and you quickly learn a few things about the fantastic weather, the long beaches and the unique Balboa Park. Furthermore, UC San Diego is one of the most renowned universities in the world, so in the end all my four criteria were met and I chose San Diego as my favourite with priority one.
Where should you live?
San Diego is built with a variety of smaller and larger neighborhoods, all of which are very different and have their own center. The historic Gaslamp Quarter, which mainly consists of Fifth Avenue, forms the center of downtown San Diego. This is where much of the nightlife takes place and there are a variety of restaurants and shops.
For living I would recommend Pacific Beach. Together with three fellow students I had an apartment on Ocean Boulevard, right on the beach and not far from the two main streets Grand Avenue and Garnet Avenue. There are many bars, surf shops, a big supermarket and much more. In general, Pacific Beach is a very youthful, open and sporty neighborhood, where you can simply spend a nice and relaxed time and settle in very quickly.
How does campus life and classes look like at the University of California, San Diego?
On the first day, all international students receive an introduction at the UC San Diego Extension campus, including an explanation of the course selection process. There are two options. In principle, every foreign student can also participate in all regular main campus courses, but these courses are very much in demand and early and intensive efforts are made to obtain places, since American students are allowed to choose first.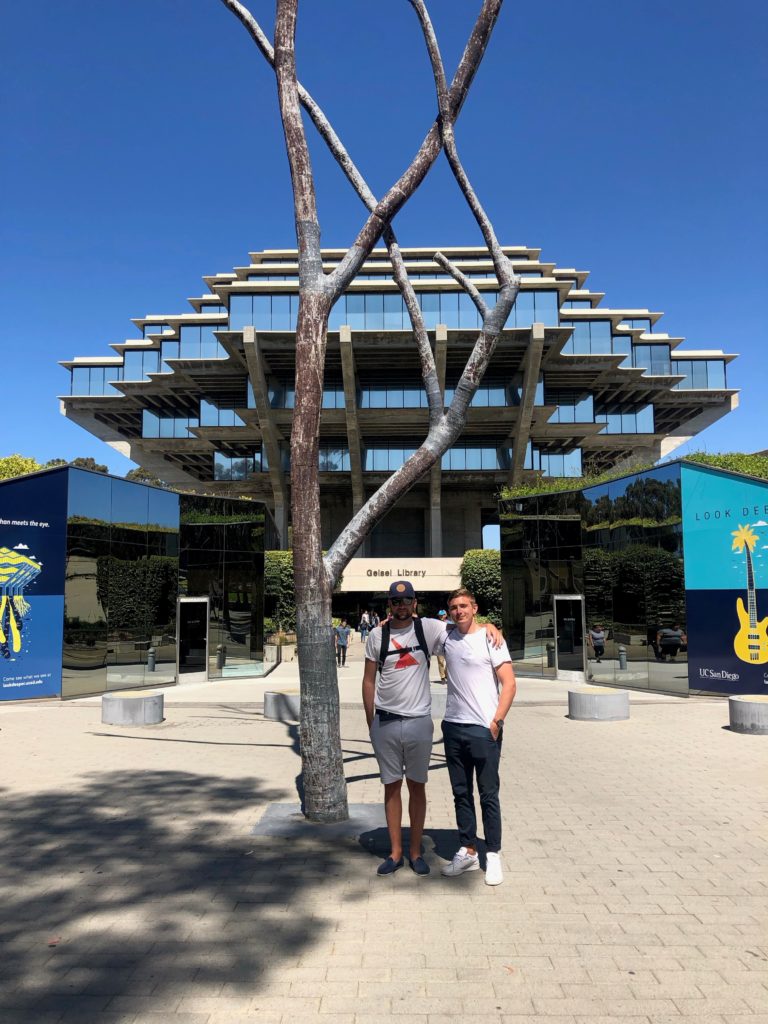 The alternative that both MBS and UC San Diego advisors recommend is to attend extension courses. Generally speaking, these are evening classes for foreign students as well as local part-time students. Classes take place a little outside in a separate building. There is a variety of interesting courses to choose from, which are attended in relatively small groups (10-20 participants) and are taught exclusively by lecturers with practical background. Usually these courses take place once a week from 6 to 9 PM. Personally, I was satisfied with this offer, as I wanted to a have tightly scheduled timetable and the course offerings in small classes and the practical focus were appealing. Moreover, this gives one the opportunity to use the day for excursions.
I would describe the workload as relatively high. While it is true that, depending on the chosen courses, it is not extremely demanding and you notice that you have already learned a lot in Germany and at MBS, the study program is very time-consuming. For each course you have to do a homework assignment every week, write a post in an online discussion forum, and during the semester you have to do a special task in each subject, for example in form of a book analysis, a blog entry or similar. In one course we also had an Open Book Quiz every week, which was evaluated. In return, I had only one regular exam and otherwise only semester projects, which had to be presented and handed in at the end. All in all, the courses were very practice-oriented, there was a lot of dialogue and you often had to do small group work.
And what else to do in San Diego?
Breakfast at Breakfast Republic, a sandwich at Cheba Hut, Tuesdays at the Backyard, Goldfish Race at the PB Shore Club, a burrito at FatFish, a drink on the beach of the time-honored Hotel de Coronado, a visit to the seals at La Jolla Cove, a tour on the aircraft carrier USS Midway, a jet ski tour in the harbour of San Diego and again and again sunsets, sunsets, sunsets. It was incredible every day anew!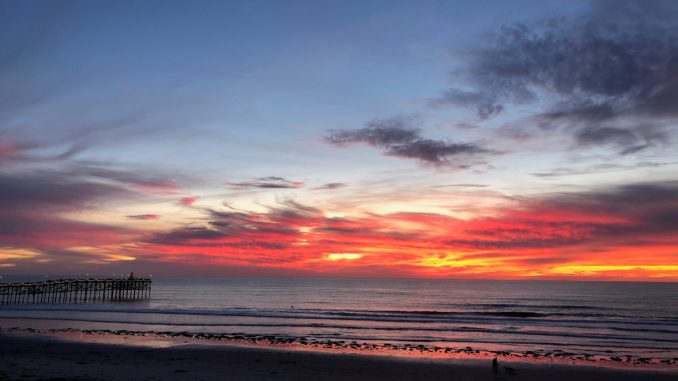 I also recommend everyone to get a car for the time there. For me, a car is simply part of life in the USA and it is a nice feeling to be independent. For the trips it is very practical and especially if you study at UC San Diego Extension a car is a clear advantage. I got a rock solid car with free kilometers for a good price. With this car I also drove to Las Vegas and made a road trip with my girlfriend on the Pacific Coast Highway to San Francisco.
I loved my time in San Diego with more or less four months of sunshine and warm temperatures. San Diego was perfect for me as an athlete and master's student in the Sports Business and Communication program. There I could perfectly combine my interests and my studies: Sailing, surfing and a number of other water sports can be practiced and enjoyed pertectly here. If you also want to have a happy and relaxed time and experience the Californian lifestyle, then San Diego is the perfect place to do so and you soon realize that it really is "Amercia's finest city".
The author is responsible for the content and form of the article.
---


After completing your bachelor's degree, you would like to delve even deeper into the processes of international business administration and specialize in a particular area, such as finance, marketing, or sports business?
Then you will find a broad selection of business master's programs with different focuses at Munich Business School. In all programs, you'll benefit from small classes, lecturers from the business world, and outcome-focussed learning that makes it easy to start your career. See for yourself:

Master's in International Business
Master's in International Business I Finance
Master's in Innovation and Entrepreneurship
Master's in International Marketing and Brand Management
Master's in Sports Business and Communication