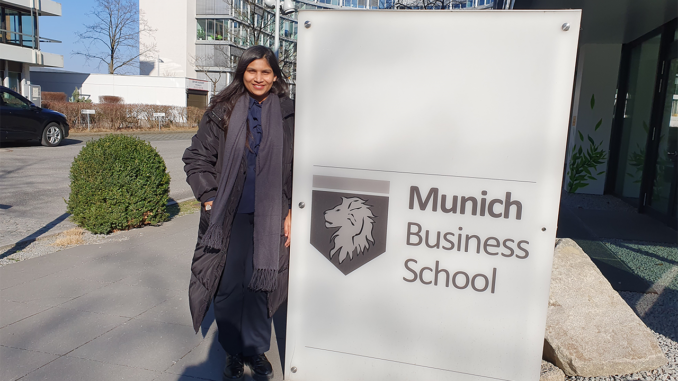 What is it like to complete an MBA in Munich at Munich Business School and is it worth pulling up stakes to come to Germany to study? MBA student Tanushree Jain took this step last year. In this blog post, she shares her experience of the first semester at MBS.
---
Hello!
My name is Tanushree Jain, I am from India and moved to Germany last year to pursue my MBA in General Management at Munich Business School (MBS). When I started posting on social media about this new step in my career, a lot of questions came directly from my network: How is studying at MBS? How is life in Munich and Germany in general? Is it worth it? In order to support as many people as possible in their decision-making process, I decided to write down my MBA experience in Munich after the first semester at MBS here. Enjoy reading!
Why I applied for Munich Business School
I applied to MBS to sharpen my skills in business and gain hands-on experience in growing companies and leading teams. Before joining MBS, I worked as dentist in India for over four years, providing accessible and affordable dental care to communities in rural and semi-urban areas. My goal is to bridge the gap between access to quality healthcare and the shortage of qualified medical professionals. By gaining an MBA, I hope to equip myself with the necessary knowledge and expertise to achieve this vision. MBS stood out to me among the various universities I considered due to its combination of world-class education and cosmopolitian culture. I believe that the curriculum at MBS will hone my management and leadership abilities and provide me with a well-rounded, intensive learning experience in areas such as innovation, entrepreneurship, global management, strategic marketing, and financial management. The fact that MBS is one of the most international universities in Germany also gives me the chance to broaden my horizons and engage with a diverse array of perspectives.
Application process at Munich Business School
The MBA application process at Munich Business School (MBS) is thorough and carefully
structured. The first step was to submit my online application, which included a letter of motivation, CV, academic transcripts, professional references, and proof of English language proficiency (such as IELTS). Although taking a standardized business test like the GMAT or GRE is optional, I chose to do so to showcase my aptitude for business. After submitting my application, I was invited to an interview with an admissions representative where I had the opportunity to discuss my goals and background in more detail. The admissions committee then reviewed all the information and made a final admission decision, which was positive in my case ;-). I was also honoured to received the Responsible Leadership Scholarship, which is offered by MBS to support dedicated and talented MBA students. If you are interested in applying for a scholarship, it is important to mention this in your initial application and to include an additional personal cover letter. Note that scholarships cannot be applied for after the initial application process.
My MBA experience at Munich Business School
As a healthcare professional, my decision to pursue an MBA at Munich Business School was a bold one, but I was eager to take on the challenge.
One of the key highlights when the MBA program finally started was meeting our Academic Director, Professor Michael Rüdiger. He has been a constant source of guidance and inspiration. His expertise and mentorship have been instrumental in my growth as a student and as a professional. During the MBA Welcome Week, I was introduced to my diverse cohort of full-time and part-time classmates, as well as various student clubs and services offered by the university. I was amazed by the wealth of knowledge, perspectives, and experiences my classmates brought to the table, making my network even more valuable. The MBS professors are experts in their respective fields and bring plenty of theoretical and practical knowledge to the classroom.

In addition to the foundational Flagship and Expert Business Knowledge courses that form an integral part of the MBA curriculum, I took the initiative to further enhance my skills and knowledge by enrolling in two MBS certificate courses designed especially for executives. I also joined the collaborative business project with Microsoft centered around the theme of sustainability in the automotive industry. This provided me with a stimulating platform to apply my theoretical knowledge in a practical setting and visit the German headquarters of the company in Munich. During the course of my MBA program, I was able to attend various company presentations, including those by reowned corporations such Allianz, Linde, SAP, and BMW. These presentations offered a valuable opportunity to network with industry specialists and executives and gain first-hand insights into diverse industries, company practices, and potential career paths. Furthermore, I underwent personal development sessions with a highly experienced business coach, which allowed me to assess my strengths and identify areas for improvement. These sessions were instrumental in helping me hone my professional and personal skills and set me on the path to success.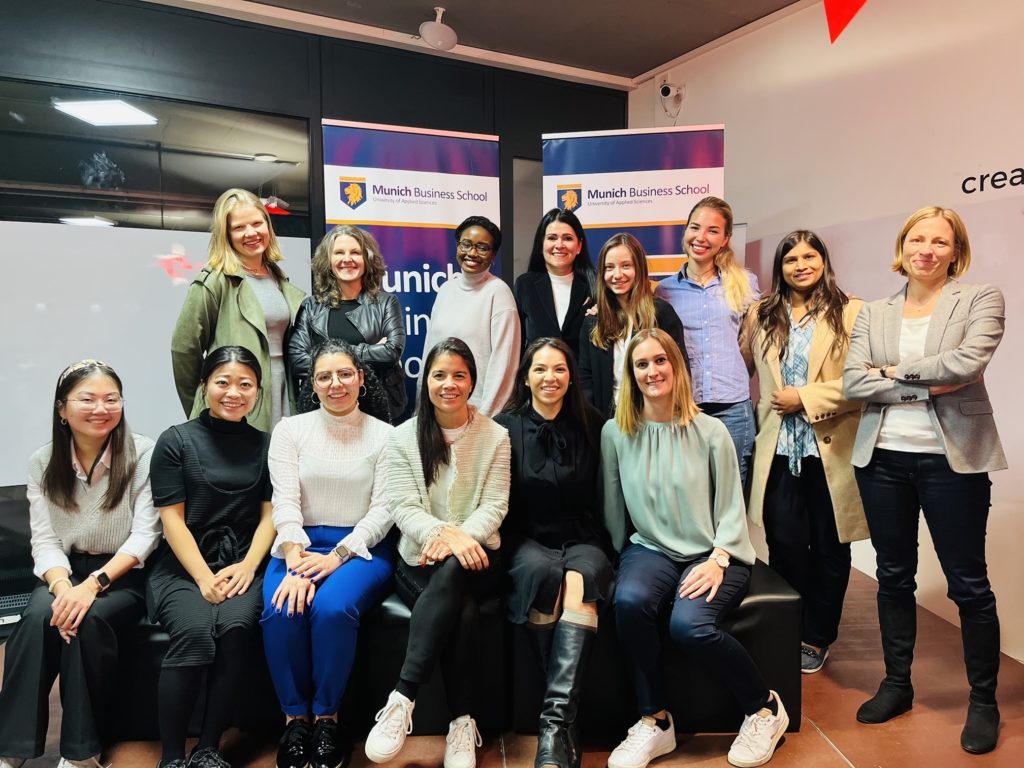 Last but not least, I was extremely fortunate to be accepted into the MBS Female Leadership Lounge – a mentoring initiative aimed at empowering female students. Under the guidance of the accomplished business leaders Anna Kopp, CIO/CDO at Microsoft, and Rita Niedermayr, Partner at Ernst & Young, I have the chance to learn a lot about responsible leadership for the rest of my MBA studies to develop myself into an impactful leader.
One of the challenges I faced during my first semester was balancing the demands of my studies and my personal life. But with a supportive team and remembering my personal motto, "A life is what you make of it," I persevered. By adopting this mindset, I have been able to approach challenges and opportunities with a proactive attitude, seeking out ways to make the most of my experiences and my time in business school. Whether facing setbacks or celebrating successes, I have remained committed to making my life what I want it to be, and this has helped me to stay motivated and focused throughout my academic and professional journey.
Settling and living in Munich
Munich is a vibrant city that combines history and modernity, offers a rich cultural heritage and a high quality of life with many opportunities for students. However, my journey to this magnificent city was not without challenges. One of the most difficult aspects was managing the paperwork and bureaucracy necessary to begin a new life in Munich. There were several minor and major duties to complete such as signing up for health care, opening a bank account, as well as choosing an apartment. Trust me, finding an apartment in Munich is tougher than completing your first semester at university! After overcoming these challenges, I swiftly adjusted to my new home with the support of my peers and the expat community. The highlight of my first semester was undoubtedly visiting the world-famous Oktoberfest, an experience that I will never forget. I also got to enjoy the enchanting Christmas market at Marienplatz with my friends, and took advantage of the winter break to recharge and study for my January exams.
Now the second semester has already started and I am looking forward to everything that is coming!
Feel free to connect with me on LinkedIn to learn more about my study experience at Munich Business School!
The author is responsible for the content and form of the article.
---


Have you secured your degree, gainded professional experience and are now looking to take a leap forward in your career, refine your leadership skills and expand your professional network?
The MBA in General Management at Munich Business School is the the perfect opportunity to do just that! See your yourself: MBA in General Management I Full-time