Application Round August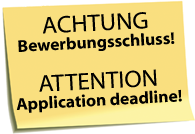 Due to the current situation because of the coronavirus Munch Business School offers an additional application round in August. The application deadline for Bachelor und Pre-Bachelor students for this round is August 15.
Applicants will participate in a personal interview at MBS or via skype.
Next possible program start is September 2020 or February 2021. Pre-Bachelor students will start in September 2020.
Information on the admission requirements and the application process can be found here.
Saturday, 15.08.2020
iCalendar