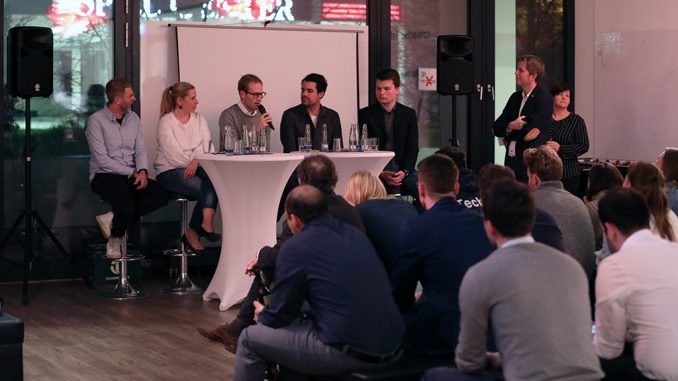 Yesterday evening, the Munich Business School Lounge was the venue for the second edition of the "MBS Start-Up Spirit – Meet the Founders" event. After a great premiere in April this year, which featured six MBS graduates-turned-business-founders, five founders lined up yesterday evening to share their stories and experiences in a panel discussion with the current Bachelor, Master, and MBA students of MBS.
The panel was comprised of:
Nina Theissen, 2007 Diplom alumna, and Co-Founder/CEO of Munich-based event agency needed
Patrick Löffler, 2003 Diplom alumnus, and Co-Founder/Managing Director of givve, and "repeat panelist" of MBS Start-Up Spirit
"Beerpreneur" Christian Klemenz, 2009 Bachelor International Business alumnus, and Founder/Managing Director of St. ERHARD & Die Bierothek
Daniel Barke, 2012 Bachelor International Business alumnus, and Co-Founder/CEO of WorkGenius
Moritz Keller, 2007 Bachelor International Business alumnus, and Co-Founder/Chief Creative & Innovations Officer of Keller Sports
After a warm welcome by Nathalie von Seyfried, Chancellor of MBS, and Martina Dengler, Alumni Relations Manager, it was on MBS Professor Dr. Christian Schmidkonz, the host of the evening, to introduce the panelists, and open the discussion.
During the following 1+ hour, the alumni shared their experiences on the whys and wherefores of them starting a business, the course of their entrepreneurial journeys, their definitions of success, but also their mistakes – and provided the students with tips and tricks for future entrepreneurs and business founders. After the lively and very inspiring discussion, the students got the opportunity to gather some more insights during an extensive Q&A session.
Afterwards, the evening continued with a get-together, at which the guests also got to taste the craft beer specialties provided by Christian Klemenz (special thanks to you, Christian!).
We want to thank our alumni guests for visiting their alma mater, and for sharing their insightful stories with our students!