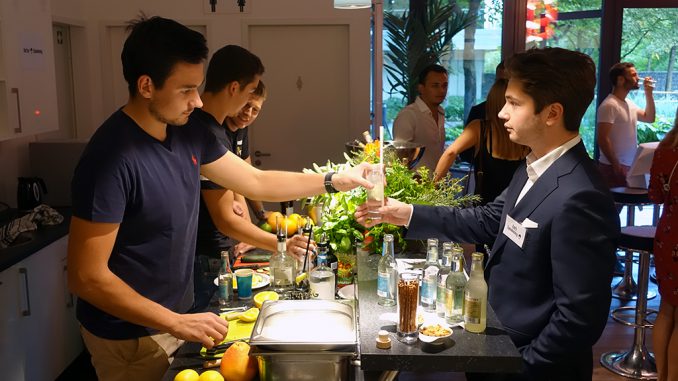 During the MBS LaunchIT Pitching Competition back in April this year, six Bachelor student teams of Munich Business School lined up to present their business ideas to fellow students and a jury of MBS professors and lecturers, contending for the opportunity to represent their university at the University Startup World Cup, which will take place in Copenhagen, Denmark, in October.
After a day full of great ideas, impressive pitching performances, and a heartbeat finale, team Speakeasy – comprised of MBS students Harrison Langenfeld, Jan-Niklas Bullert, Nicolas Reineke, Wolfgang Seibert, Luca Müller, and Timothy Reischl – came out on top.
Bringing the World of Gin to Your Doorstep
Their business idea is all about spoiling the palates of gin enthusiasts by bringing the world of gin to their doorsteps, i. e. offering all-in-one tasting sets that come with alternating selections of gin combined with proper mixers and botanicals.
In order to prepare their grand entrance in Copenhagen, the team had organized a gin tasting event for their fellow students and peers, which took place at the MBS Lounge past Friday. About 40 people followed the invitation and – while degusting a tasty selection of various gin drinks in a cozy atmosphere – provided some important feedback on their liquor-shopping habits, their eagerness to try out new gin brands, and similar customer insights that shall support Speakeasy in further elaborating their business idea.
Looks like team Speakeasy is perfectly ready to rock the University Startup World Cup. Keep your fingers crossed, and follow them on Facebook and Instagram.
Thanks to The Duke Gin, FeverTree, and 71circles for supporting the event and making it a special one!