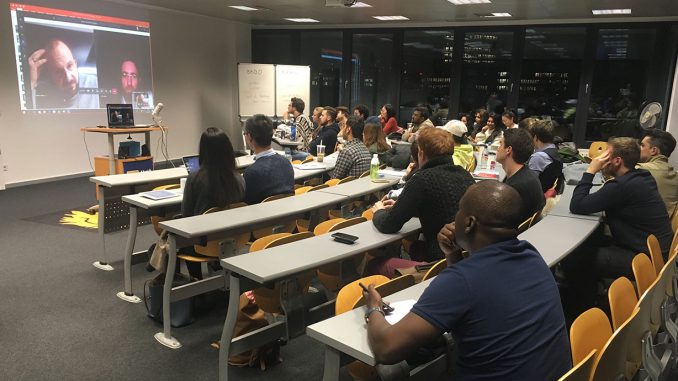 At the invitation of MBS lecturer Michael Falkensteiner, Gordon Euchler, Head of Strategy at BBDO – the world's leading agency network, and Nils Liedtke, Associate Partner at McKinsey & Company – the leading strategy consultancy, gave an interesting guest lecture on »The Business Value of Creativity – How winning companies turn creativity into business value and growth«. The talk in front of an audience of MBS Master students spontaneously took place digitally via video conference due to the Lufthansa strike.
Gordon Euchler and Nils Liedtke reported on a series of studies undertaken by BBDO and McKinsey & Company that illustrate the value of creativity in business growth. For example, they plotted the creativity and the content fit of ads and measured it against advertising recall and market share increase. The results showed that creativity is a safe choice. If creativity is high, success rate is high. Furthermore, they scored companies' data-driven creativity performance while analyzing each company's business growth. Results showed that those companies who illustrate an advanced use of data and creativity processes and who integrate these two grow their revenues 2x faster than their peers.
Here are the key takeaways:
Hardwire creativity and innovation in your daily practices ("live creativity in the boardroom")
Become customer fanatic
Feed the need for speed to turn insights into action
Create and manage the best eco-system of partners, i.e. sometimes it is worth working with more than just one creative partner
The guest lecture was concluded with a Q&A session, which the students used to gather some more insights. We would like to thank Gordon Euchler and Nils Liedtke for sharing their insights about the value of creativity in business growth with our students! Our students loved the topic and stayed interested, even on a Friday evening at 6pm.