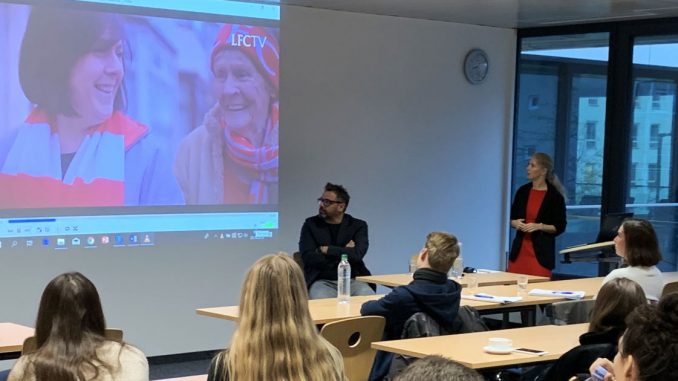 This means more and Global Anfield: Markus Breglec, former Director Marketing and Media at FC Liverpool introduces students at MBS to brand management in sports business.
Markus Breglec has seen quite a lot during the three years he managed the Marketing and Media Department at Liverpool FC. The lost finals in Europe and the Champions League, an incredible season with 97 points and finally the triumph against the rival from Tottenham in the Champions League final 2019. What a success story and a great opportunity for marketers like Markus. Without doubt he has used this success to develop an amazing brand strategy at the European champion.
From January onwards he will dedicate himself to new challenges. Before doing so, he took some time to introduce the participating students to the world of brand management and marketing at a leading football club. While students were provided with a typical Bavarian breakfast, Program Coordinator Master Sports Business and Communication Sarah Jürgens Sarah Jürgens moderated the conversation with Markus Breglec in a relaxed atmosphere. The participants of the Sports Business and Communication Master will have the chance to learn much more from the marketing expert in class this semester, for all the others it was great chance to get an insight into the business world of football.
This time he talked more specifically about brand management. In the past, he worked for top brands like Nike, Adidas and HTC and was able to outline the similarities and differences of sports business and conventional industries. A topic that is mainly influenced by one aspect which Liverpool in particular has plenty to offer: emotionality.
We thank Markus Breglec for his time, the presentation and all answered questions. For all participants it was a great opportunity to get an insight of what marketing at a world class football club is all about.