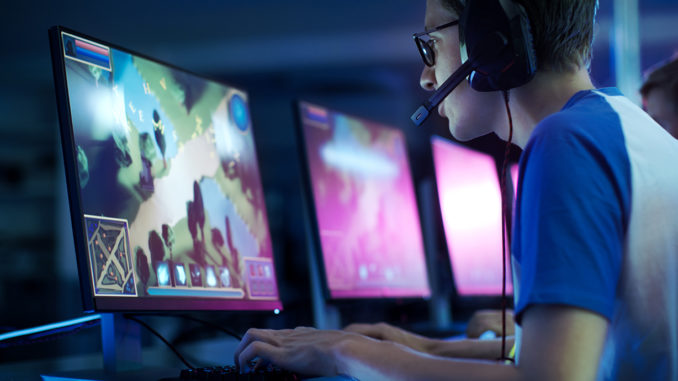 Kilian Kramer is a graduate from the Sports Business and Communication master's program at Munich Business School and works as Commercial Inventory und Innovation Manager at ESL Gaming, the world's largest esports company. For his master's thesis, he was investigating the role of esports in the context of sports marketing. Following the completion of his thesis, Kilian and his supervisors, MBS professors Dr. David Wagner and Dr. Barbara Scheck, continued to work on the study and recently published a research article in a special issue on international sports management of the European Journal of International Management. In this blog post, Kilian summarizes key findings from the article and shares some lessons learnt from the process.
---
The esports and gaming industry is booming – with market revenues exceeding $1 billion in 2020 and an estimated 3 billion gamers worldwide. According to PWC's sports business survey 2020, it is the sport discipline with the highest projected revenue growth in the years to come – no wonder that esports is considered one of the most relevant trends in sports business. Competitive gaming has become a global phenomenon, having evolved into a spectator sport of international scope and garnering recognition as an official part of the sports and entertainment business. Esports also attracts a rising number of renowned investors, sport clubs, and companies that enrich the industry with capital and business expertise, accelerating the growth of awareness, revenue and professionalization.
Despite the growing market and increasing relevance, esports also comes with a number of challenges. One major difficulty for organizations, which consider an involvement in the esports industry, is that they are often missing a clear concept and strategy on how to design and activate an engagement. In the words of Michael Heina, Nielsen's head of esports in Germany, "the interest in esports among most decision-makers is now certainly over 90%. But when it comes to important details, the level of knowledge is often still very superficial." Given the lack of prescribed application patterns and numerous engagement options, organizations struggle to find suitable engagements and to leverage the possible benefits.
In order to explore typical managerial practices by different stakeholders, I conducted interviews with professional organizations, such as sports clubs, sponsors and consulting agencies, which are working on esports marketing activations in their daily work. The goal of the interviews was to shed light on reasons for entering the field, exploring relevant marketing channels and identifying the best approaches to reach out to gaming communities. Additionally, we examined measures of success, prevailing risks as well as future perspectives of the industry.
Our findings suggest that organizations and sponsors within the sports business may benefit from a broader esports engagement strategy, going beyond the traditional way of engaging with sport-affiliated audiences. Clubs, leagues, associations and sponsoring partners can win sympathy and loyalty within a young target group by establishing infrastructure and support for the professionalization of their hobby. Furthermore, organizations can reach new, international markets, spectators and sponsors not interested in traditional sports and are able to create a fresh image separate from the stereotypical history. The traditional soccer club FC Schalke 04 can be taken as prime example, as it inspired the League of Legends community in 2020 and wrote esports history with an unprecedented race to catch up, better known as the Schalke Miracle Run. Lastly, an investment may accelerate and emphasize sports marketer's digital awareness as they get in touch with companies that are developing the latest technological tools (e.g. 5G in venue).
With our paper, we contribute to a better understanding of the nascent field of esports, specifically from a digital marketing perspective. A central contribution of the study is the illustration of esports' value for sports marketers, while shedding light on how digital marketing potential can be leveraged on an operational level. Based on our findings, we present several recommendations for sports marketing managers to jump-start their esports engagement and provide an agenda for future research at the intersection of sports management and digital marketing.
From a personal perspective, I have learnt substantially from the thesis process, since I gained profound knowledge in the field of esports and gaming by extensively researching the latest academic literature and conducting interviews with experts of the industry. The exploration and examination of the esports industry helped me grow from a student to an expert and a professional within the sector. I built deep knowledge and established a broad network in a highly interesting, fast-paced industry, which ultimately even led to an exciting job within one of the most important organizations in the scene.
I would like to encourage you to become more familiar with the gaming industry, as it is an area that will increasingly affect human behavior and shape societies in the future.
If you would like to dive into the details of the paper, entitled "Reaping the digital dividend? Sport marketing's move into esports: insights from Germany," you can find the full version in the February-March issue of the European Journal of International Management. Click here for the online edition. In case you are interested in more details, feel free to contact Kilian Kramer directly.
The author is responsible for the content and form of the article.
---


After completing your bachelor's degree, you would like to delve even deeper into the processes of international business administration and specialize in a particular area, such as finance, marketing, or sports business?
Then you will find a broad selection of business master's programs with different focuses at Munich Business School. In all programs, you'll benefit from small classes, lecturers from the business world, and outcome-focussed learning that makes it easy to start your career. See for yourself:

Master's in International Business
Master's in International Business I Finance
Master's in Innovation and Entrepreneurship
Master's in International Marketing and Brand Management
Master's in Sports Business and Communication