MBS Insights: From the first idea to the product launch: How long have you been working on your business idea? When was the entrepreneurial spirit awakened in you? What have been the biggest challenges, but also the biggest milestones so far?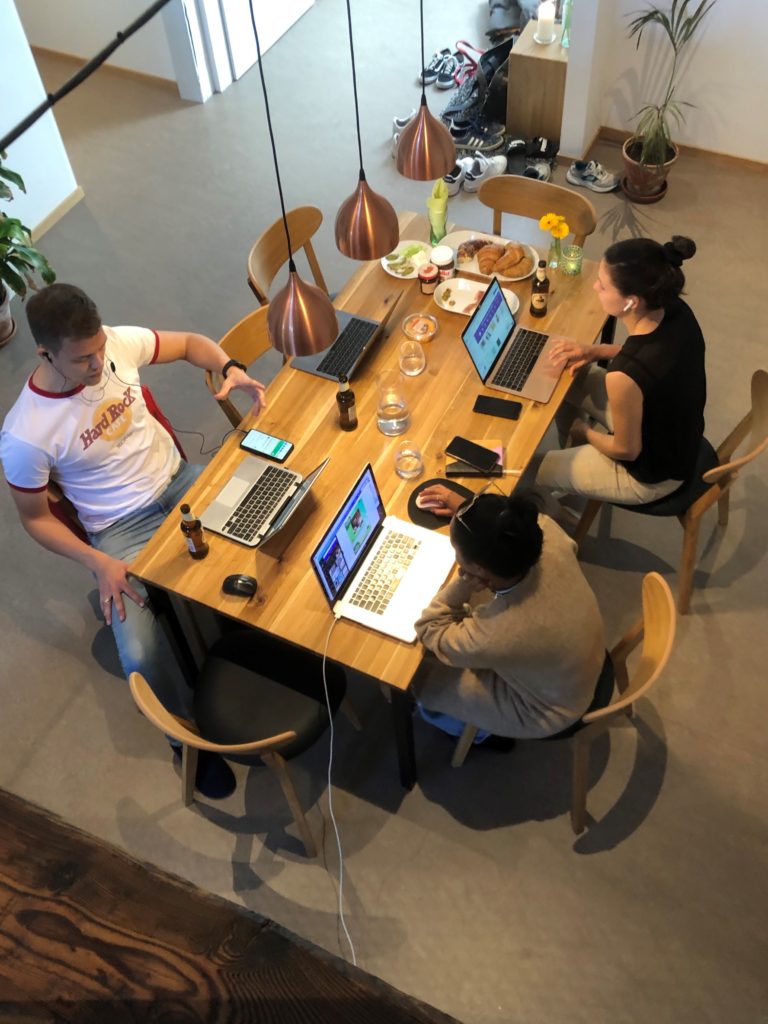 Pascal Ritter: The idea for The Fortunate Planet arose in November 2019, when I was on a backpacking trip through South America – a moment that decisively changed the rest of my journey, as I subsequently spent more time working on the concept than on the beach. At the time, however, the project had a slightly different focus: I wanted to develop a clean-up app that would allow environmental benefactors to track their clean-ups and then connect directly with sponsors and be rewarded, motivating many more people to clean up the environment. I thought, if there are people out there who can make a living by dancing videos on TikTok & Co., there must be a market for that in the long run.
However, we pivoted this focus in the first test phase because it did not address the root of the problem of littering and it could not have been fundamentally solved. Because if the collected waste is disposed of incorrectly and the disposers do not further process the waste in the end and, as unfortunately usually happens, throw it back into nature, even the best clean-up is useless. We then have a cycle, but more in the direction of a vicious circle. The crucial thing for us is correct disposal – and this is where we faced one of the biggest challenges in developing the app: which disposal point is recycling-friendly and which city has already digitized its drop-off points? Out of this need, we integrated the spotting of waste collection points into the app in order to build up a nationwide network in the long term, from which all users benefit and which at the same time helps the cities to classify and digitalize their waste collection points.
The biggest milestone recently was certainly the app launch for Global Recycling Day on March 18, 2021 We had originally planned to launch the app in April and ultimately launched it in the app store four weeks earlier than planned in order to be online especially for Global Recycling Day. There, the whole team did a huge job and trembled until the end. In the end, the app was approved at 6:21 am on March 18 and available as of 9:53 am – precision landing.
MBS Insights: The Fortunate Planet was recently awarded "Best Start-up of the Circular Economy 2021" by the three umbrella organizations BDE, BDSV and VDM. What does the award mean to you and what are the next steps of your movement?
Pascal Ritter: It makes us immensely happy to be awarded among all the innovative recycling start-ups and to receive the appreciation that we are on the right track. At the same time, we also know that we are still at the very beginning of a long journey, that we have a lot to learn and that the competitors are not asleep. Therefore, this award is an incentive to continue with the same determination and in the next step to support the first Fortunate Cities in form of pilot projects with the transformation in combination with our app and expertise. For this citizen movement, we are initially focusing on the DACH region.
MBS Insights: The value of responsibility is also lived and taught at Munich Business School. How did your master's degree at MBS inspire you to come up with your sustainable business idea and what knowledge you acquired during your studies can you still draw on today?
Pascal Ritter: After I had started my professional career in the recycling industry, I came to MBS for my master's degree with the goal of acquiring more profound knowledge for higher management positions. My expectations were mainly focused on the classic courses à la Corporate Finance & Co., from which I had hoped the most for my further path before the studies. In retrospect, however, I have to say that the soft skills modules and methods in particular made me think and perhaps even rethink. Examples include the Successfactor Happiness course with Prof. Dr. Schmidkonz and my semester abroad in India. With regard to my sustainable business idea, India was one of the game changers, because as a trained recycler I suddenly saw how waste is dealt with – or not dealt with – in such an exciting country.
P.S. Dear Prof. Dr. Zirus, of course I was also able to learn a lot from Corporate Finance II and the different forms of company valuation help me even more today :).
MBS Insights: What role do you think innovations and start-ups play in the development of a more sustainable and greener world?
Pascal Ritter: An elementary one! A small boat turns faster than a large freighter and can react more quickly to new circumstances. I see it similarly when it comes to start-ups and innovations.
MBS Insights: And last but not least: What is your advice for young entrepreneurs or students who are thinking about founding a start-up?
Pascal Ritter: Do it right away! Even if there's a high chance that it won't be a success, you'll learn so many new things yourself that will help you in the long run in any job. Start with small tests and when you realize that the topic really interests and stimulates you, intensify your work.
If your personal situation allows it and you don't have a precise idea yet: take three months and focus on identifying without pressure for yourself personally what you are looking for in life and what you want your life to look like in 5, 10 and 30 years. Then find a long-term goal that will still drive you in 10 years and build a business model around it that is in harmony with your own goals.
MBS Insights: Thank you, Pascal, for your time and the exciting insights into your work. All the best for the future!