World Cleanup Day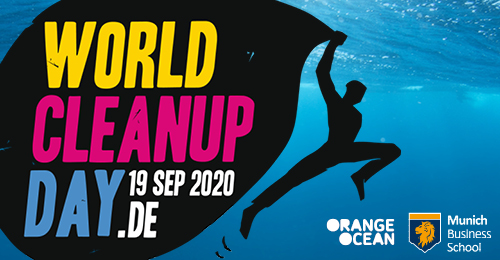 World Cleanup Day - Join the Movement on September 19, 2020, 10 am - 1 pm!
On September 19, 2020, World Cleanup Day, the largest bottom-up civic movement in the world to eliminate pollution and plastic waste, will take place. Munich Business School has teamed up with Orange Ocean and will participate! Become part of the movement and join us in ridding our streets, parks, rivers and riverbanks of carelessly disposed waste and plastic waste. This is how we are bringing the largest one-day citizens' action against waste in the history of mankind to Munich.
#togetherwestand #worldcleanupday
Date and Time: September 19, 2020 from 10 am to 1 pm
We clean up:
English Garden (near Chinese Tower)
Flaucher, Thalkirchen (near Zoo Hellabrunn)
Register online - and stay tuned for more information on the day and location.
Saturday, 19.09.2020
iCalendar