MBS Online Explorer Week: MBA Program Introduction & Trial Lecture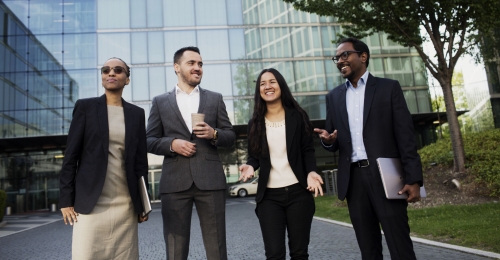 Meet us online on February 20 at 10 am and get to know our MBA program with a trial lecture on "Supply Chain Digitalization & Industry 4.0".
Value creation has changed dramatically over the past decades. Today, the majority of value is no longer created by OEM's (Original Equipment Manufacturers) but rather by a complex network of local and international suppliers. Managing this complex network of suppliers (and customers) has become one of the most important tasks of modern, globally competitive companies. Modern information management systems and tools play an immensely important role in the previously described management process, yet, companies struggle when it comes to deciding when, and what processes to digitalize.
The lecture "Supply Chain Digitalization & Industry 4.0 - Achieving Long-Term Sustainable Competitive Advantage by Pro-Actively Managing Global Value Creation Networks" will take a brief look at supply chain performance management and give a brief introduction to the challenges and potential solutions when managing and digitalizing national and international supply chains.
The Online Event is held in English.
Date and time: Saturday, February 20, 2021, 10 to 11 am
Saturday, 20.02.2021

Time Begin: 10:00
Time End: 11:00
iCalendar