Application Round December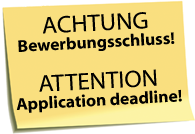 The application deadline for this round is on December 31. The Application Day takes place on January 9.
If you are unable to come to Munich for the Application Day, MBS alternatively offers the possibility to participate in an online interview (60 minutes).
Next possible program start is February or September 2021. Pre-Bachelor starts in June or September 2021.
Information on the admission requirements and the application process can be found here.
Thursday, 31.12.2020
iCalendar