Bachelor Application Round July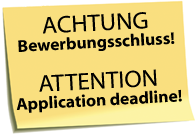 The application deadline for Bachelor und Pre-Bachelor students for this round is on July 15.
Applicants will then attend a personal online interview (approx. 60 minutes) and receive feedback within one week.
Next possible program start is September 2021 or February 2022. Pre-Bachelor students will start in September 2021.
Informationen zu Zulassungsvoraussetzungen und Bewerbungsprozess finden Sie hier.
Thursday, 15.07.2021
iCalendar