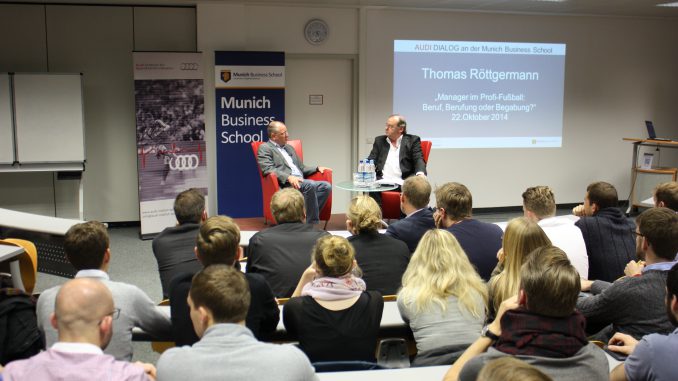 Under the motto "Managers in professional soccer: Profession, calling or talent?", Prof. Dr. Dr. h.c. Josef Hackforth, host of the event, had invited Thomas Röttgermann, business manager of VfL Wolfsburg, as discussion partner to the Audi Institute for Sports Communication at Munich Business School within the frame of the lecture series "Audi Dialogue".
Thomas Röttgermann, a native Westphalian, studied journalism, sociology and political science at the University of Münster. The stations Mr. Röttgermann had passed during his professional career include positions with the Sports Club Preußen Münster, Borussia Mönchengladbach, and with the sports license agency SPORTFIVE GmbH, before he arrived at Wolfsburg in March 2010. In his function as a business manager, he is confronted with a multitude of tasks and commercial responsibilities, ranging from TV licenses and women's soccer to sponsoring and social responsibility activities.
With regard to the daily routines of a soccer club, Mr. Röttgermann sees very, very strong parallels to an enterprise's routine. "Formerly, the focus was on the core business – soccer. Today, a soccer club has completely different tasks and must tend to completely different issues". These could be, for example, the public perception of the societal responsibility in each region, the development of a brand profile for the club – things nobody had even considered in the past.
In his daily work, Thomas Röttgermann tries to proceed strategically and wants to implement are more systematic design into the Club's entire work. One basic requirement in doing so is to understand the values of the Club and to know how to implement them. He explained how it was impossible to change the DNA of the Club just because it did not seem appealing. "Only very few people understand that you have to stand up for this image, even if it's polarizing and not all of its aspects are positive. We in Wolfsburg, we are simply different and we act differently. This is good, and, moreover, we stand for it."
The 100 guests at Audi Dialogue experienced Thomas Röttgermann as a relaxed and open speaker, giving interesting insights into the manifold tasks of his daily work as a business manager. The dialogue with Prof. Dr. Dr. Josef Hackforth and the subsequent Q & A session brought up further topics, as for example the future of sports events sponsoring and the marketing potential of the Chinese market.