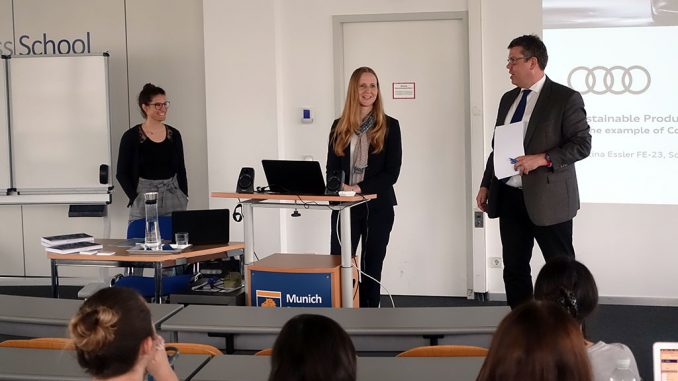 At the invitation of MBS Professor Dr. Arnd Albrecht, MBA General Management alumna Martina Essler, Head of Controlling Products Car Body at AUDI, visited Munich Business School to hold a guest lecture on "Sustainable Product Controlling @ AUDI" in front of MBS Bachelor, Master, and MBA students.
Accompanied by her team member, Sophia Hümmer, Martina started her presentation by providing an overview of the Volkswagen Group, mother company to AUDI AG, the AUDI product range, and the car manufacturer's network of international production facilities before focusing on the Product Controlling department within the AUDI organization, Martina's and Sophia's working area.
Following, they shed light on how a typical working day looks like for them, presented the tools and elements they use to optimize product costs, and added some more detailed information on what product controlling is all about. At the end of their impressive presentation, they also offered information on internship and thesis opportunities at AUDI.
Thanks to Martina and Sophia for visiting MBS, and for their insightful presentation on "Sustainable Product Controlling @ AUDI".